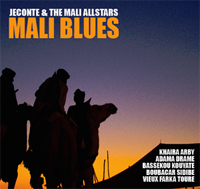 JeConte & The Mali Allstars
Mali Blues (Soul Now Records, 2013)
Pooling a line-up of musicians that include harmonica player and rhythm guitarist Boubacar Sidibe, n'goni player and electric guitarist Adama Drame, percussionist and calabash player Mahamadou Kone and bassist Sekou Bah, harmonica player and vocalist Je Conte has cooked up a rich stew of West African rhythms, reggae, Afropop feel-good grooves, New Orleans style blues and folksy Californian rock for the debut of his JeConte & The Mali Allstars. Set for release on July30th on the Soul Now Records, Mali Blues takes the listener on a cross-pollinated journey, proving that the depth of music has no bounds or boundaries.
Recorded in Bamako, Mali at the Yeelen Studios during the 2012 coup, Mali Bluess takes on a precarious preciousness, one where the music and people of Mali walk a tightrope of what once was and what survival means now. Intended to bring some well-deserved international attention to a region where militants are still on the loose, thousands remain in refugee camps, suicide bombings continue and a precipitous drop in tourism, JeConte & The Mali Allstars have set a course to preserve the music and heritage of the Malian peoples. JeConte's efforts aren't just for show either. A percentage of the proceeds of Mali Blues go to his non-profit organization Save Our Universal Language Now (soulnow.org) in order to educate and better lives of the young people of Mali.
Let me point out here that the blues of Mali Blues for many music fans shouldn't be confused with the desert blues of groups such as Etran Finatawa, Terakaft or Tinariwen. Conjuring up a sound that is more akin to Afropop than blues, Mali Blues comes across lushly soulful layered with a hip coolness. Chocked full of harmonica, n'goni, rich, textured rhythms, sizzling guitar lines and vocals possessed fully Mali's soulfulness, Mali Blues makes for some fine listening.
Opening with a driving rhythm and a kaleidoscope of African sounds "Kamelenba" is utterly delightful and even more so as the track features guest artist Moustafa Kouyate on n'goni. Music fans are treated to such goodies as the feel-good reggae groove of "Toumouranke," the slick, old time blues found on "Nous Aimons Le Mali" with guest artists vocalist Khaira Arby and n'goni player Bassekou Kouyate and vocally rich "Aujourd'hui Demain."
Other notable tracks include the guitar saturated "La Monde Pour La Paix" featuring guest artists vocalist Khaira Arby, n'goni player Bassekou Kouyate and vocalist and guitarist Vieux Farka Toure, the folksy reflective feel found on "Laido" and blues slicked "Bamako Blues." There is also the easy African blues feel of "Delta Niger" with Khaira Arby that is bound to appeal to African music fans.
JeConte & The Mali Allstars have made it so easy for music fans to step up and support Mali's music, musicians and needy folks and all under the guise of this bright and breezy music.
Buy Mali Blues
Author:
TJ Nelson
TJ Nelson is a regular CD reviewer and editor at World Music Central. She is also a fiction writer. Check out her latest book, Chasing Athena's Shadow.
Set in Pineboro, North Carolina, Chasing Athena's Shadow follows the adventures of Grace, an adult literacy teacher, as she seeks to solve a long forgotten family mystery. Her charmingly dysfunctional family is of little help in her quest. Along with her best friends, an attractive Mexican teacher and an amiable gay chef, Grace must find the one fading memory that holds the key to why Grace's great-grandmother, Athena, shot her husband on the courthouse steps in 1931.
Traversing the line between the Old South and New South, Grace will have to dig into the past to uncover Athena's true crime.