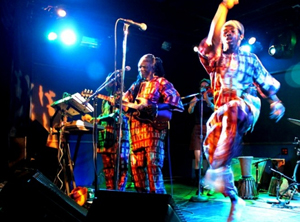 Sierra Leone's Refugee All Stars is scheduled to perform on Thursday, August 8, 2013 at 8:00 p.m. at the Skirball Cultural Center in Los Angeles as part of this year's Sunset Concerts.
From modest beginnings in West African refugee camps, the band has gone on to perform their danceable fusion of roots reggae, Congolese soukous, American soul, funky African grooves, and deep tribal chants on some of the world's most prestigious stages.
Currently in the middle of a North American tour in support of their album Radio Salone, Sierra Leone's Refugee All Stars are also in the process of recording songs for their next album, scheduled for release in 2014. The group will be joined in the studio by Chris Velan, the singer-songwriter and producer who worked on the band's first album, and Lestyn Polson, who has worked with artists such as David Gray, Patti Smith, and David Bowie.
The upcoming album will see the Sierra Leone's Refugee All Stars heading in a more acoustic direction, with songs that bring them back to the days when they were distracting themselves from their woes by playing music around the campfire in the refugee camps.
About the Sierra Leone's Refugee All Stars
In 1997, Reuben Koroma and his wife fled the war in Sierra Leone and found themselves in a refugee camp near the border. They joined up with guitarist Francis John Langba (aka Franco), bassist Idrissa Bangura (aka Mallam), and other musicians in the camp to entertain their fellow refugees. A Canadian relief agency donated two beat-up electric guitars, a single microphone, and a meager sound system, and Sierra Leone's Refugee All Stars were born.
The band's debut album, Living Like a Refugee, was followed by a succession of U.S. tours, including New York's Central Park SummerStage, Japan's Fuji Rock Festival, the Bonnaroo Music & Arts Festival, and a slot opening for Aerosmith.
Their second album, Rise & Shine, produced by Los Lobos' Steve Berlin, brought more critical accolades and was awarded 2010 Album of the Year on the prestigious World Music Charts Europe. The band followed up this success with a third studio album, Radio Salone, produced by renowned reggae, soul, and Afrobeat artist Victor Axelrod, aka Ticklah.
The Skirball's Sunset Concerts series presents free community concerts featuring an eclectic mix of traditions and styles from the Americas to North India to West Africa. The 2013 season continues with Mamak Khadem and Ensemble (August 15), a world-premiere collaboration between Maria Muldaur and The Campbell Brothers (August 22), and Dendê and Band (August 29).
More about the concert:
www.skirball.org/sunset-concerts-2013
Author:
World Music Central News Department
World music news from the editors at World Music Central