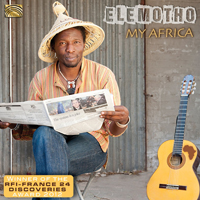 Some musical instruments are unique to Africa, some Western instruments are derived from Africa and some instruments have seemingly nothing to do with Africa until an African gets hold of them. It may have been regional, tribal or cultural distinctions that led to signature instruments in a given type of African music, just as colonialism, modernizing, outside influences and pure creativity played undeniable roles.
An African singer who also happens to play an instrument (or vice versa) is likely to be a shining example of Africa's musical diversity no matter what instrument they choose. Gobs of great African music, with varying sorts of instruments in the lead, have recently landed on my doorstep.
The ever-familiar guitar, of course, is found in numerous places on the African map. The acoustic sort sings sweetly in the hands of Namibia's Elemotho R. G. Mosimane on My Africa (ARC Music, 2013). Singing in native tongues and English, he puts forth 77 minutes of songs that have a primarily relaxed feel and still have a level of grit when needed, as on the plainspoken "The System is a Joke" and "A Dose of Reality" (the latter featuring the voice of Native American poet John Trudell).
Mosimane is not a traditionalist -the fact that he has a Siberian flutist in his band is proof enough of that- but the caressing music he makes, which clearly reflects the absorption of sounds from countries in close proximity to Namibia as well as Namibia itself, proves a very pleasant discovery.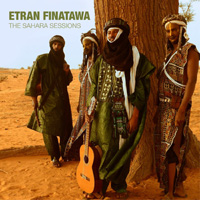 Veteran Gabonese singer Pierre Akendengue likewise favors the acoustic guitar on his latest, Destinee (Lusafrica/Romepa, 2013). His finely weathered voice and six-string are at the center of often lush, layered arrangements with inner rhythms that might put you in mind of rumba, Afro-Brazilian music, palm wine, makossa, sounds from Africa's Lusophone nations or the similar variation that marks many of Akendengue's previous albums. Destinee is an excellent addition to his long body of work.
Also going unplugged in the guitar department is Niger's Etran Finatawa, who convened in a tent in a remote part of the desert to record The Sahara Sessions (Riverboat Records/World Music Network, 2013). It's the same sort of career move that Mali's Tinariwen made recently, and Etran Finatawa's is similarly fruitful, with improvised songs and pre-mapped compositions alike showing the musical unity between the band's Tuareg and Wodaabe members and capturing the feel of what was no doubt a very inspired session. Guitars, percussion, sand-polished vocals and occasional electric bass combine informally and beautifully on a sparse and exceptional set of true desert blues.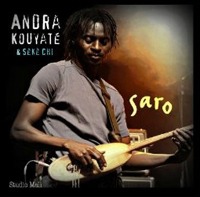 Just as accomplished at Africanized guitar playing but having taken a far less likely route to becoming so is Leni Stern, a decidedly non-African woman from Germany. Her connection to Africa is a deep appreciation for Malian music and the chops to play it. Smoke, No Fire (Leni Stern Recordings, 2012) shows Stern well versed in the local lingo on guitar, n'goni lute and vocals. Recorded mainly in Bamako with some of Mali's finest and ranging from deeply traditional to light and poppy, the album has plenty of fire despite the title.
Speaking of the n'goni (and I was a moment ago), it's wielded masterfully by Andra Kouyate, leader of the band Seke Chi on their debut CD Saro (Studio Mali, 2012). Andra is the younger brother of another n'goni virtuoso, Bassekou Kouyate, and the talent in the bloodline is obvious. Saro's 16 tracks cover funk, blues, reggae, several levels of griot tradition and one great song after another. Guest artists include Amadou and Miriam, balaphonist Lassana Diabate and singer Ami Sacko, and attempting to further describe this album would be futile at best. Suffice to say it's some of the absolute best Malian music you'll ever hear. Highly recommended.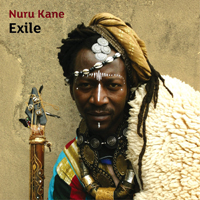 Senegalese Baye Fall adherent Nuru Kane plays guitar on his latest, Exile (Riverboat Records/World Music Network), but he also adds muscle to some of the tracks with the 3-stringed bass lute called the guimbri. Kane picked up on the instrument after first hearing the driving, circular-rhythm music of Morocco's Gnawa people, a sound inspired by the spirituality of Sufism.
The Gnawa style is the basis of much of Kane's own music, though reggae, blues, Afropop and Andalusian strains add variety to a splendid album that ranges in feel from celebratory to stark. Kane's raw vocal style is a perfect fit for the acoustic instrumentation, and even a piece as potentially silly as "Yes We Kane" comes across as a sincere plea for African unity. The many moods of Exile culminate with "Zikar," which references the Sufi practice of spiritual recitation for the edification of one's soul.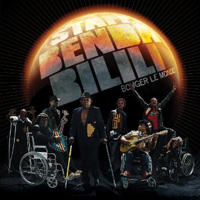 When the paraplegic members of Staff Benda Bilili weren't practicing their rough and tumble brand of Congolese rumba on the grounds of the Kinshasa zoo, they were out playing it on the city's streets. After hooking up with some musically inclined street kids and getting local recognition, the world music press got wind of the band because of the danceable urgency of their music and the quirkiness of their success story. Bouger Le Monde! (Crammed Discs, 2012) is their second album, and it pulsates delightfully like classic rumba ought to, though the production isn't glossy and the musicians' busking spirit comes across. And with regard to signature instruments, these guys have the satonge, a single-stringed wood-and-can contraption which was invented by one of the group's teenage members and produces zesty sounds that enrich the melodies and add a sense of crazy cool to the whole affair. The songs are inspiring and invigorating with not a dud among them.
From over on the island of Madagascar, that country's finest accordionist, Regis Gizavo, brings us Ilakake (Cinq Planetes, 2013) on which he soars as both player and chanteur. Gizavo can make his instrument sound freewheeling and joyous as well as somber and pensive. Those moods and the places where they intersect can be heard here, making the album a real pleasure.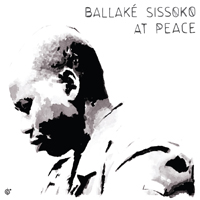 By now most African music fans know a kora when they see and hear one, and that 21-stringed harp/lute is played with considerable finesse and nuance by Mali's Ballake Sissoko on At Peace (Six Degrees, 2013). This album is not beholden to the way of the griot or the public's desire for dance music, instead featuring a selection of low key instrumentals with Sissoko caressing the kora solo or accompanied by acoustic guitar, balafon and cello. Drums are absent but not missed, and the disc flows like clear water through lush greenery. If you love the sound of the kora, you'll absolutely need At Peace and you won't truly be in such a state until you do.
Which brings us back to the guitar. Mon Pays (Six Degrees, 2013) is the newest by Vieux Farka Toure, son of the late great Ali Farka Toure, and the younger Toure continues to show he can tear it up or play it tasty with the same expertise as his legendary father. Well, the same and his own. Mon Pays ("My Nation") is Vieux's most personal (and rootsiest) disc to date, a kind of musical love letter to a Malian homeland that continues to be plagued by Islamist militants seeking to force their severe version of the Muslim religion on one and all. Part of their fanatical agenda is the suppression of music, and Vieux Farka Toure, himself a Muslim, ain't having it. He's fighting ugliness with beautiful music, and this album is loaded with just that.
From the first notes of the opening "Diack So," Mon Pays swings and sways hypnotically and impeccably. It's a mostly acoustic outing, and in addition to Toure's ever-more-accomplished guitar and vocals, the tracks are layered with intricate percussion, bass, n'goni, gourd fiddle and kora (played by Sidiki Diabate, whose father Toumani collaborated with Ali Farka Toure on some very notable works). Vieux speaks to Mali's current situation with a combination of caution, hope and pride on such songs as "Yer Gando" and "Kele Magni" as well as expressing the same sentiments with no lyrics at all on a couple of sparkling instrumentals entitled "Peace" and "Future."
Idan Raichel contributes piano to "Ay Bakoy," recalling the magic of last year's Toure-Raichel Collective CD (you gotta get that one if you don't have it already), and Vieux salutes his father with a version of the elder Toure's elegiac "Safare." I'd have to peg this as Vieux's best so far, and that's setting the bar remarkably high. It's certainly going to rank among the best releases of 2013.
Buy the albums:
Elemotho R. G. Mosimane – My Africa
Pierre Akendengue – Destinee
Etran Finatawa – The Sahara Sessions
Andra Kouyate – Saro
Andra Kouyate – Saro
Nuru Kane – Exile
Staff Benda Bilili – Bouger le monde
Ballaké Sissoko – At Peace
Vieux Farka Toure – Mon Pays
Author:
Tom Orr
Tom Orr is a California-based writer whose talent and mental stability are of an equally questionable nature. His hobbies include ignoring trends, striking dramatic poses in front of his ever-tolerant wife and watching helplessly as his kids surpass him in all desirable traits.