Based in the eastern state of Sarawak in Malaysia, the Shangyin Chinese Chamber Music Ensemble performs a unique blend of traditional Chinese music along with local Malaysian instruments and songs. They have performed abroad in Singapore and China as well, and played recently at the Rainforest World Music Festival 2013. Albert Chin, pipa player with the Ensemble, joins us in this exclusive interview on the band's musical journey and their unique mix of instruments.
Q: What was the vision behind founding of your group?
The Kuching, Malaysia-based Shangyin Chamber Orchestra was formed in October of 2012 on the inspiration of the group's Singaporean music director Dr Tay Teow Kiat. On a visit to Kuching in August of that year, he was struck by how differently the regions of Southeast Asia treated their musical traditions. From the Malay and Indonesian Music to the Thai, Burmese and other forms, performance styles were unique. How interesting it would be, he thought, if he combined some of these traditions to create something entirely new.
The 13 states of Malaysia have not only unique traditions but also their own instruments to go with them. In Sarawak, that instrument is the sape (also called sapeh). Why not add it to the Chinese instruments and traditions of the region? From this encounter the Shangyin Chamber Orchestra was born!
The ensemble was invited by the Shanghai Music Conservatory to join the 8th National Music Performance by the Yangtze River Delta Region Orchestra, which showcased performances by different groups from many regions within China and from abroad. The Shangyin Chamber Orchestra proudly received a "Special Performance Award" from the judges, so impressed were they and the audience. The Orchestra performed many new pieces and new arrangements of traditional repertoire to suit the group's instrumentation. Other recent events include one on the invitation of the Singapore City Chinese Orchestra.
Q: Who would you say are the leading influences in your musical career?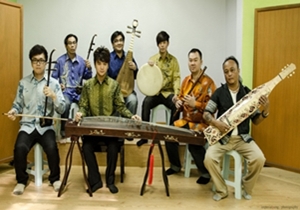 My pipa teacher, Mdm Kou Xiu Mei, she is from China, my very first music teacher, I learned pipa from her. Mdm Chen Wen is my current guqin teacher. A person that really influenced me on music, especially the philosophy of oriental Chinese guqin music and how it is different than other music, including traditional Chinese music.
Dr Tay Teow Kiat, our music director from Singapore, he leads us and guide us on how to form our current group, showing us how should we run our ensemble. Mr Chong Vui Tong, owner of Shangyin Music Centre, without him we would not have our ensemble. He is a very important person supporting our career.
Q: What music influences did your family have?
Parents always hope that their children could have a better life in the future, they did not forbid or try to control our future, what they hope is we are happy in whatever we are doing. They mostly listen to pop, Christian songs, and less traditional music.
Q: How do you blend different musical influences and genres in your music?
We have invited different composers to help compose the music, by giving them the essence of native music and different cultural forms, and let them compose it in order suit to our group.
In the ensemble we all are friends, working in the same music centre, we share a love for music. We do not have a very impressive profile yet!
Q: Tell us about the more unusual instruments you have in your ensemble.
We have the sapeh, Sarawak native's plucking instrument; it is the very first time that we feature it in collaboration with traditional Chinese instruments.
Q: What are your thoughts on blending of music of different genres?
Countries over the centuries have evolved and progressed by influencing each other. In Borneo also we have different cultures, languages, musical instruments, and performing arts. Even languages are being influenced by each other: English, Malay, Chinese are all blending together already, so why not the music? And it is representing the unique culture of all of us.
Author:
Madanmohan Rao
Madanmohan Rao is an author and media consultant from Bangalore, and global correspondent for world music and jazz for World Music Central and Jazzuality. He has written over 15 books on media, management and culture, and is research director for YourStory Media. Madan was formerly World Music Editor at Rave magazine and RJ at WorldSpace, and can be followed on Twitter at @MadanRao.