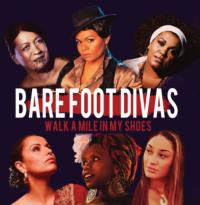 Barefoot Divas
Walk a Mile in My Shoes (VGM, 2013)
Hailing from New Zealand, Australia and Papua New Guinea, the indigenous women vocalists that comprise Barefoot Divas sing in diverse genres ranging from rhythm & blues, flamenco, salsa, contemporary soul, and pop. And usually, an album featuring indigenous women vocalists with powerful voices (and the press release touts 6-part harmony) would entice my ears, but sadly, Walk a Mile in My Shoes sounds more contemporary soul than I prefer.
The lyrics lean towards dramatic struggles, which on a socio-political level I understand (Marvin Gaye once handled darker issues with more finesse), but on a musical level, I don't wish to be plied with insufferable situations set to entertaining rhythms. If I wanted to know what was going on in the world, I could read the international news or visit websites for human justice. As it is, I shuffle through the CD searching for a song of gratitude, joy, or any good feelings, but I find no respite.
On one hand, I give these ladies credit for speaking their truth in a musical arena, but on the other hand, I'm unable to listen to this CD without feeling depressed (and depression is not a place I wish to visit). Even the prerequisite love songs possess shades of abuse and co-dependence (Never Forget). And yet, in the press notes, these woman vocalists (Ursula Yovich, Emma Donovan, Whirimako Black, Maisey Rika, Merenia and Nagaiire) have experienced extraordinary success in the music business. I guess they carry on a socio-political tradition that hails from places like Africa where musicians report social situations in songs, but at least with African music, we get tribal rhythms, soaring vocals, and uplifting melodies. On Walk a Mile in My Shoes, we get heartbreaking lyrics, sometimes sung with lush harmonies, set to popular music genres.
I would have liked to have heard the 6-part harmonies mentioned in the press release, indigenous melodies and instruments, and a few songs that celebrate life rather than hurling insults at the human condition. True, we can focus on all the wrongs in the world or we could come up with solutions and sing about that.
Author:
PatriciaHerlevi
Patricia Herlevi is a former music journalist turned music researcher. She is especially interested in raising music consciousness. She is looking for an agent and publisher for her book Whole Music (Soul Food for the Mind Body Spirit). She founded and hosts the blog
The Whole Music Experience and has contributed to World Music Central since 2003.