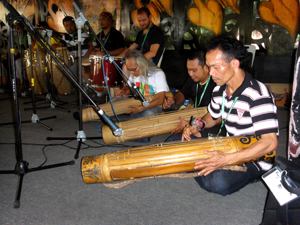 This is my sixth time at the Rainforest World Music Festival in Kuching/Sarawak, one of the top 25 world music festivals across the planet! 20 bands from around the world were showcased this year, including 6 from host country Malaysia.
Each day kicked off with an informative discussion between the bands and media, covering issues of career directions, business models and social impact (see earlier article: World music bands address their role in social change, cultural preservation and creativity). Each afternoon featured nine interactive and dynamic workshops and jams — with the musicians grouped in clusters, such as drummers, flautists, and guitarists.
Day One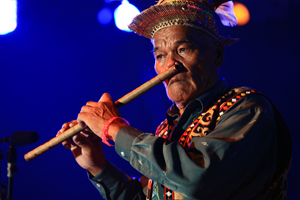 The first evening performances kicked off in fine style on a hot equatorial evening, spared by the late afternoon showers – perhaps thanks to the opening ceremonial chants for good luck!
Local bands Juk Wan Emang and Lan E Tuyang opened the show, and Rhythm in Bronze added an operatic texture to traditional gamelan music. More traditional music and dance was showcased by Irish folk music band Kila and Australian aboriginal group Nunukul Yuggera.
One of the most creative bands of the evening was Chet Nuneta, a Paris-based group blending vocal polyphony with percussion. The combination was incredible, with the three female vocalists and two male percussionists covering a wide range of languages, moods, and improvisations. They sang in French, Spanish, Italian, Komi, Safarade, Chinese and Arabic, blending musical traditions around the world in a fun-filled set.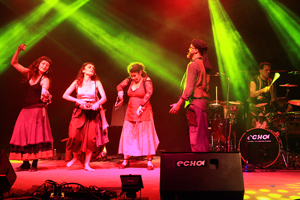 Alp Bora quintet performed a set of Turkish music, with Uygar Cagli delivering solid support on the bass guitar. Another outstanding bass guitarist that night was Edgar Alboleta from Rey Vallenato Beto Jamaica, a high-energy band from Colombia which easily was the most popular performance of Day One.
The group kept the audience on their feet with a rousing set of cumbia and vallenato music from Colombia's Caribbean Coast, with Edgar Fernandez and Vilmer Pinzón showcasing some brilliant percussion. Accordionist Beto Jamaica has won a string of international awards, and showed the audience exactly why, with shimmering solos and spiralling cascades.
Day Two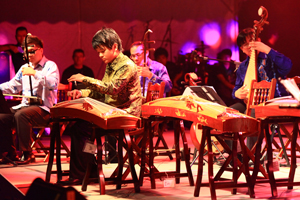 Local bands Maya Green and Madeh opened the second day's performances, and Shangyin Chinese Chamber Orchestra added a local texture to traditional Chinese instrumentation by including the sape string instrument. Croation band Kries delivered a multi-textured set of electro-folk music.
One of the most creative bands of the evening was Rafly Wa Saja from Aceh in Indonesia, who blended elements of Cuban rhythm with Indonesian songs. Rafly's dynamic vocals, richly interspersed with jazz-style scatting, were backed by Agam Hamzah's terrific solos on acoustic guitar, Jalu G. Pratidina on congas, Adi Darmawan on electric bass, and Saat Syah on a range of flutes including the snake-shaped suling, a traditional Kalimantan flute. This was folk music interlaced with an up-tempo jazz groove, and the soul was ethnic Aceh. The music caught the audience by surprise, and was exhilarating and eye-opening at the same time.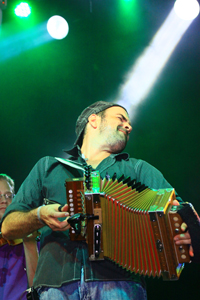 Another popular act was Pine Leaf Boys, Louisiana's four-time Grammy-nominated band, with a foot-stomping set of cajun, zydeco and blues sung in Creole. Wilson Savoy on keyboards and accordion stood out for not just his brilliant mastery of the instruments but his charismatic stage presence and the ease and pride with which he bonded the group together.
The climax of the evening was South African Xhosa band Dizu Plaatjies and the Ibuyambo Ensemble. The Cape Town band, with two female vocalist/dancers and five male percussionists, played on a number of instruments such as the marimba, mbira, mouthbow and birimbao. The dancers decorated with body paint and masks had the audience on their feet for the entire set, and the vocal clicks in the lyrics drew amazement from an audience not used to the linguistic diversity of Africa.
Dizu also drew loud rounds of applause for the thanks he gave to the legacy of leaders such as Stephen Biko, Chris Hani and Nelson Mandela (I have had the good fortune of hearing and seeing Hani and Mandela during their speaking tours in the US). Some members of the audience waved placards and signs saying 'We Love Mandela,' and the audience joined the band in praying for good health for the ailing African leader.
Day Three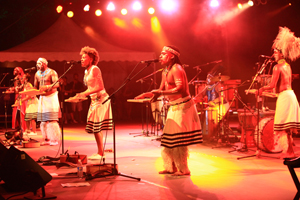 The final music showcases highlighted not just musical traditions from around the world but also theatre-like presentations which transported the audience to shamanistic farmer rituals in Korea and fishing villages in Iran.
Gema SLDN-SCV, the Sarawak percussion ensemble, started off with a stunning set of almost 40 young musicians on stage in traditional garb, many of them drumming away on long log-drums in groups of 7-10 each. The youthful group was conducted by Augustine Anak Lawrence Ladon.
Mohsen Sharifian and The Lian Band from Bushehr province performed folk music pieces from different communities in Iran, such as the people of fishing villages. Bagpipes and a range of percussive instruments were interspersed between cheerful hip-swaying dancers in traditional costumes, and drew loud rounds of applause. Mohsen's solos on the nay-jofti reed flute were outstanding (see my earlier interview: Mohsen Sharifian: Taking traditional music from Iran to new collaborative heights).
The band Spiritual Seasons from Ukraine played a range of folk music songs from around Europe, and the Australian aboriginal dance group Nunukul Yuggera took the stage one more time.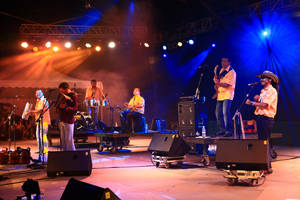 The energy level picked up considerably with Palsandae from South Korea, thanks to their dazzling display of costumes, twirling dancers, and ritualistic chanting. In the period of the Joseon Dynasty, sandae referred to the stage held at the palace for the king and ambassadors. Storytelling, shamanistic songs and circular dances by over 20 performers mesmerised the audience throughout the set of farmers' music ably directed by Kim Woon Tae.
Each performer played a percussion instrument while running, whirling and spinning long white ribbons on their chaesang hats. The players run in a circle, expressing the continuous flow of life.
The closing act, Danish folk-jazz band Habadekuk, wrapped up with a rousing set of powerful horns, toe-tapping fiddle and contagious rhythms, including Latin and Caribbean beats. The keyboardist and drummer provided solid support and direction to the 9-member ensemble.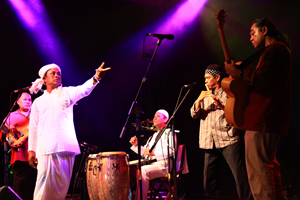 The grand finale featured almost all of the bands coming up on stage to take the final bow, and though the jam came across as a bit disjointed, the audience lapped it all up and bid farewell to the troupes, with a mix of happiness at the weekend-long Festival and sadness that it was all over.
The festivities carried on with a poolside jam at the musicians' hotel, and the Colombian band Rey Vallenato Beto Jamaica kept the guests on their feet till sunrise with terrific cumbia and vallenato. Some members of Danish band Habedekuk also joined in and the pairing up of the accordionists from both bands was a ringing endorsement of the Festival's community and collaborative spirit.
We already look forward to the 17th edition of the Rainforest World Music Festival, in 2014!
Author:
Madanmohan Rao
Madanmohan Rao is an author and media consultant from Bangalore, and global correspondent for world music and jazz for World Music Central and Jazzuality. He has written over 15 books on media, management and culture, and is research director for YourStory Media. Madan was formerly World Music Editor at Rave magazine and RJ at WorldSpace, and can be followed on Twitter at @MadanRao.