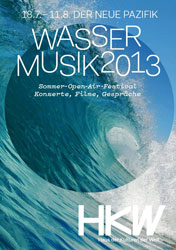 German music and film festival Wassermusik 2013 will present music and films from the Pacific seaboard. The concerts, films, and discussions will take place July 18 – August 11 at Haus der Kulturen der Welt in Berlin.
The musical highlights include Peruvian Grammy-winning vocalist Susana Baca, presenting songs from her travels around the Afrodiaspora; Mexico's Julieta Venegas; Afro-Peruvian electronica stars Novalima; and various forms of cumbia by Colombia's Meridian Brothers, Matias Aguayo and the legendary Cumbia All Stars.
Australian songwriter Robert Forster returns to Wassermusik after a lengthy break with new songs.
Two large projects are featured on the bill: Mr. Ho's Orchestrotica, a 20-piece ensemble complete with slide-guitar, Hammond B3 organ and four voices, playing new incarnations of works by Esquivel; and the enormous Japanese collective Shibusa Shirazu Orchestra.
Concerts from the United States include Dengue Fever, Mama Julia y Los Sonidos Ambulantes, Ramiroquijano and Troker. Asia contributes The Paradise Bangkok Molam International Band, Noughts & Exes, and Nova Heart.
Tomi Simatupang, The Kilaueas, Dengue Dengue Dengue!, DJ Ipek, Mother Perera, DJ Clé are also heading to Germany from the most diverse of backgrounds.
The films follow the same pattern as the music. From August 8 to 11, the Asian Film Festival Berlin will feature films by Apichatpong Weerasethakul, among others, and a long night of short Vietnamese films. Lakino, the Latin American Film Festival Berlin, will screen short films from Chile, Mexico and Colombia.
Film and radio workshops for teenagers, a water market and a bicycle disco complete the program. Panel discussions will take place on July 16 and 17 under the title "The Invisible Continent."
Author:
World Music Central News Department
World music news from the editors at World Music Central