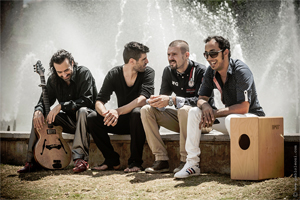 World Music Expo WOMEX announced today the first set of international artists selected to perform at the influential showcase to be held in in Cardiff, Wales (UK), from Wednesday, October 23, to Sunday, October 27, 2013.
"The 2013 WOMEX program is like the real homemade super-delicious Hungarian Goulash Soup (Gulyás leves)," says showcase Jury member Fruzsina Szép, Program Director of Sziget Festival. "Each 'ingredient' is essential to have THE perfect taste, with the feeling that you want to eat much more…"
Over 850 high quality artists from around the world applied to perform at WOMEX 2013. Below is a list of the first confirmed acts – which also includes Ghazalaw, who celebrate a fusion between Welsh folk songs and Indian Ghazal, presented by WOMEX's host partner in 2013, Cerdd Cymru : Music Wales.
– April Verch Band (Canada)
– Aysenur Kolivar (Turkey)
– Cumbia All Stars (Peru)
– Debademba (Mali/Burkina Faso/France)
– Ebo Taylor (Ghana)
– Emily Portman Trio (UK)
– Fanfaraï (Algeria/Morocco/France)
– Flamenco Eléctrico (Spain)
– Ghazalaw (India/UK)
– Grupo Bongar (Brazil)
– Guillaume Perret & The Electric Epic (France)
– Horomona Horo / Waiora (New Zealand)
– Lau (UK)
– Shangaan Electro (South Africa)
– Stelios Petrakis Quartet (Greece)
– [su:m] (South Korea)
– Teta (Madagascar)
More Showcases will be announced soon.
Author:
World Music Central News Department
World music news from the editors at World Music Central