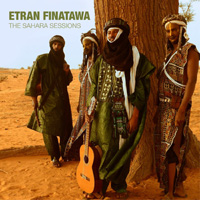 Etran Finatawa
The Sahara Sessions (Riverboat Records/World Music Network, 2013)
Recorded in the Saharan desert with only an animal skin tent for shelter, the Niger desert blues group Etran Finatawa ponders their increasingly difficult existence through guitar, calabash, handclaps, or tekedebena played with a one-stringed bow and vocals that create a sound as old as the wind across the dunes, a sound baked by the Saharan sun.
The Sahara Sessions is the latest by the Tuareg/Wodaabe group of musicians. Set for release on July 30th on the Riverboat Records/World Music Network, The Sahara Sessions is the fourth recording for Etran Finatawa. Their previous recordings include Introducing Etran Finatawa, Tarkat Tajje / Let's Go! And Desert Crossroads. For those trivia junkies, it actually says in the liner notes "Recorded by Colin Bass, Tent in the Desert, Korey Gourou, Niger.
With troubles in neighboring Mali, water shortages and land disputes continue to make for a hard existence for the nomadic Tuareg and Wodaabe peoples and that comes across clearly through the group's music with ragged, edgy vocals that sound as if they'd been baked in the sun against revolving guitar lines and quick, clever percussion fashioned out of calabash and handclaps.
Opening with the delicious "Matinfa," one can't help but catch glimpses of the Sahel region's rolling landscape in the mind's eye. Fragile vocals ache through such tracks like "An Mataf Germanawen," "Eldam" and "Djojarere" against the every present backdrop of that desert blues guitar. But for Etran Finatawa music isn't just about educating the outside to their plight, but lifting the consciousness of their own as with track "Issuad" or "Let's Come Together" where the members of Etran Finatawa draw attention to the shifting political winds.
Featuring Etran Finatawa musicians guitarist, vocalist and tekedebena player Alhousseini Mohamed Anivolla; vocalist and guitarist Bammo Agonla; guitarist, tende drummer and backing vocalist "Goumar Abdoul Jamil; azakalabo player and backing vocalist Mamane Takari; calabash player Ayouba Muslim; and finally the album's producer and bassist Colin Bass (who played with famed progressive rock band Camel), Etran Finatawa picked up a couple of extra participants along the way that includes a couple of Tuareg women from Niamey and a group of school children who sang along to some traditional Fula song with the musicians.
Abdourahaman Ag Ibrahim, a local griot, or praise singer and oral historian, joins in on the improvisation "Wa Oyan A Wa Imouss I Bastila." Other notable tracks include the deliciously rousing "Issuad" with female vocals and wild instrumentation, "Is Ler Is Salan," "Toumast" with its dishy blues guitar lines and "Gonga Timouhar" with its wailing call and response vocals.
The Sahara Sessions comes across as preciously rooted to the earth just as the travel routes that take these musicians and peoples from town to city to community. Building on an already rich musical tradition, Etran Finatawa puts the Niger Tuareg and Wodaabe peoples on the world musical map.
Buy The Sahara Sessions in North America
Buy The Sahara Sessions in Europe
Author:
TJ Nelson
TJ Nelson is a regular CD reviewer and editor at World Music Central. She is also a fiction writer. Check out her latest book, Chasing Athena's Shadow.
Set in Pineboro, North Carolina, Chasing Athena's Shadow follows the adventures of Grace, an adult literacy teacher, as she seeks to solve a long forgotten family mystery. Her charmingly dysfunctional family is of little help in her quest. Along with her best friends, an attractive Mexican teacher and an amiable gay chef, Grace must find the one fading memory that holds the key to why Grace's great-grandmother, Athena, shot her husband on the courthouse steps in 1931.
Traversing the line between the Old South and New South, Grace will have to dig into the past to uncover Athena's true crime.