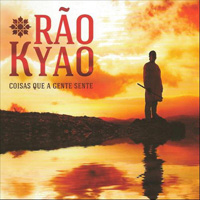 Portuguese musician Rão Kyao has a new album of originals tited "Coisas Que A Gente Sente" ("Things That We Feel"). The eleven songs transport the listener into a world of sounds where the main instrument is his trademark – the bamboo flute.
"When we go to a concert we passively expect the music to unfold and envelop us. We hear the sound of the instruments, its interpretation, its composition, the sound and resonance of the group as a whole and we comment that it was a good performance – this is generally what we remember about the event.
When we think it was a "great concert" and ask ourselves why, very often we see that we can pinpoint it, and define this certain something that touched us so deeply, these are "coisas que a gente sente" (things that we feel). Feeling is what in music and in life makes us vibrate, or rather, live. We can appreciate the contours, the virtuosity, the form, the proposal, the aesthetics together with all the other elements of music, but only when it touches us deep inside, when we feel it is when it has served its purpose. This factor elevates us, changing and giving new dimension to our very existence. These are indefinable moments, they are indeed "coisas que a gente sente".
The new CD expresses several original themes, with great emphasis on Portuguese resonance on the narrow and challenging path between respect for its roots and the constant desire of a search for new routes, be it in their composition, their interpretation or their musical arrangement.
This year, the Pedro Osorio and Igrejas Caeiro Awards were presented to Rão Kyao for his album "Coisas Que a Gente Sente."
Author:
World Music Central News Department
World music news from the editors at World Music Central