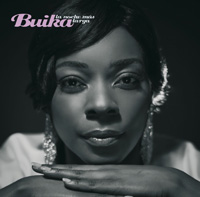 Buika
La Noche Mas Larga (Warner Music Spain, 2013)
Vocalist Concha Buika, along with pianist Ivan "Melon" Lewis and percussionist Ramon Porrina, tosses convention out the window and pounds tradition into dust for her latest La Noche Mas Larga, available now the Warner Music Spain label. With previous recordings like En Mi Piel, El Ultimo Trago, Niña de Fuego, Mi Niña Lola and the self-titled Buika to her credit, the Spanish-born of Equatorial Guinean parents Ms. Buika takes a firm hold on the reins of La Noche Mas Larga, acting as an co-executive producer with Mr. Lewis and Mr. Porrina, all while perfecting her vocal soundscape and seeking out her own musical vision.
Ms. Buika notes, "This is a risky album because we never thought about anyone's approval. I just did what my heart was demanding. Sometimes in the music business everybody does what they think other people will like, but that's a limitation. I don't care about sales; I just want to be true. I want what Charlie Parker's got – I want eternity."
Dipping into the rich traditions of flamenco, her own African background and the innovative playground of jazz, Ms. Buika's vocals prowl and sleek through before pouncing and sinking her considerable claws into the very meat of the music. Writing many of the songs on La Noche Mas Larga, Ms. Buika lavishes each track with emotional vocals that have been honed by her younger years around the Spanish Romani people of Mallorca, a home life filled with pop stars like Fito Paez, Miguel Rios and Jose Jose and musical collaborations with the likes of Chucho Valdes, Nelly Furtado, Anoushka Shankar and Yasmin Levy. Whether singing in Spanish, French or English, Ms. Buika goes for the emotional center of the song.
Ms. Buika notes, "I tour through all of these different countries and I sing in Spanish. I want to prove that it doesn't matter where a musician comes from – people understand it. It doesn't matter where I perform – Turkey, France, Japan, the U.S. – something in the atmosphere tells me they understand the words I am singing."
Against a lush, plush backdrop fashioned by Mr. Lewis on piano, keyboards and percussion; Ramon Porrina on percussion and backing vocals; John Benitez on bass; Alain Perez on electric bass; Juan Jose Suarez "El Paquete" on flamenco guitar; Pedrito Martinez on percussion and backing vocals; Israel Suarez "El Piraña" on percussion; Dafnis Prieto on drums and Carlos Sarduy on trumpet, Ms. Buika's vocals soar and zing through the bloodstream.
Listeners are treated to the spicy, flirty and jazzy opening "Sueno Con Ella," written by Ms. Buika, the subterranean thrumming "Siboney" and flamenco dashed "Ne Me Quitte Pas" and "Yo Vengo A Ofrecer Mi Corazon."
Other gems include the sizzling "La Nave Del Olvido" and the sleekly worked title track "La Noche Mas Larga." Fans get a healthy dose of flamenco on the Billie Holiday and Arthur Herzog Jr. composition "Don't Explain," and a dip into the sultry with "No Lo Se" with Pat Metheny. Equally delicious is "Santa Lucia" and the jazzy, funk tinged "Throw It Away.
Ms. Buika puts the recording into perspective this way, "I think every record I've made is different, but with this new one I recorded behind my own ideas and I made this album from a state of freedom. I think it's the bravest record that I've made. I wanted to put our craziness and our sound in there."
Author:
TJ Nelson
TJ Nelson is a regular CD reviewer and editor at World Music Central. She is also a fiction writer. Check out her latest book, Chasing Athena's Shadow.
Set in Pineboro, North Carolina, Chasing Athena's Shadow follows the adventures of Grace, an adult literacy teacher, as she seeks to solve a long forgotten family mystery. Her charmingly dysfunctional family is of little help in her quest. Along with her best friends, an attractive Mexican teacher and an amiable gay chef, Grace must find the one fading memory that holds the key to why Grace's great-grandmother, Athena, shot her husband on the courthouse steps in 1931.
Traversing the line between the Old South and New South, Grace will have to dig into the past to uncover Athena's true crime.