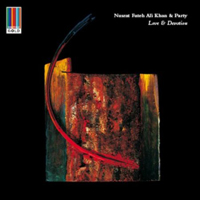 Real World Records announced the release of Nusrat Fateh Ali Khan and Party's album 'Love & Devotion' (CDRWG196) under the Real World Gold series. The album will be on sale at WOMAD Charlton Park (25th – 28th July) and on general release on 29th July.
The qawwali singer Nusrat Fateh Ali Khan has always be something of an iconic figure both to Real World Records and its sister organization WOMAD, gracing their respective recording studios and stages on many occasions.
Until his premature death in 1997, Nusrat was an exceptionally prolific performer, an artist saluted by the Guinness Book of Records for the staggering number of albums he recorded, an amount well into three figures.
Love & Devotion brings together two of the beyond doubt finest recordings from that staggering pile – the two 1992 records for Real World, Love Songs and Devotional Songs. They are perfect companion pieces, glimpses of a musical giant at the very height of his considerable powers.
The artistry of his accompanying Party is faultless, a perfect balance of tabla drums, harmonium melodies, handclaps and ensemble singing. But this is simply the frame for the masterpiece itself – the great man's outstanding voice.
Buy Love & Devotion
Author:
William Bain
William Bain wrote these reviews while he was host of 'Chimes of Freedom' on CFFF/ Trent Radio (Peterborough, Ontario, Canada)