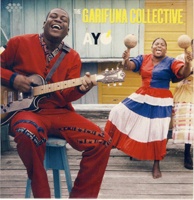 The Garifuna Collective
Ayo (Stonetree/Cumbancha, 2013)
It's been some six years since Andy Palacio & The Garifuna Collective introduced the world music community to the rich, ripe sounds of Central America's Afro-Amerindian Garifuna peoples with the recording Watina.
After much acclaim, some world tours and a Greatest World Music Album of All Time from Amazon.com and then sudden death of Andy Palacio at the age of 47 in 2008, The Garifuna Collective has mourned, reflected and has at long re-energized the Garifuna sound to once again dazzle fans with their latest. Ayo, released in a joint venture between Stonetree and Cumbancha, is set to hit the streets July 2nd as band members gear up for an extensive tour of the U.S. and Canada this summer.
Ivan Duran, the Belizean musician and Ayo's producer, sums up The Garifuna Collective's process, "Even during the recording of Watina, nobody was sure if it was necessarily Andy's record, but he kept on stepping up and being the voice for the project. The process of making that record was very similar to what we did with Ayo. Everyone was equal, and at the end of the day it truly was a Collective."
Mr. Duran continues, "So what happens now is no, we don't have that figure, but don't want anyone to come in and be Andy Palacio. We are going back to the core values of the project, which is to present Garifuna music to the world, not in a traditional way, not in a museum, but as a living musical form. When you listen to the record you feel that spirit of being in the village with everybody singing along, everybody being a part of a song, not following a single singer or star."
Drawing deeply on a sound that has its roots in the first slave ships to land in the Caribbean Island of St. Vincent in 1635, the Garifuna sound is a heady mix of African, Caribbean, and healthy doses of music from Belize, Guatemala, Honduras and Nicaragua – the lands in which the Garifuna peoples were exiled to by losses in conflict with the British military in 1796. Transforming those musical traditions and building a sound of their own with drumming, maracas, turtle shell shakers, guitars and bass, The Garifuna Collective sets up the listener that goes beyond traditional music and zeros in on a collective sound that comes across as fresh and savvy.
Fashioning that sound is drummer and vocalist Joshua Arana, lead vocalist and percussionist Marcela Aranda, vocalist and percussionist Lloyd Augustine, lead vocalist Sofia Blanco, lead vocalist and percussionist Desiree Diego, drummer and vocalist Denmark Flores, lead guitarist and vocalist Sam Harris and bassist and vocalist Al Ovando. While the band membership might be fluid – the group allows anyone in the Garifuna community to join in rehearsals – their sound on Ayo is tight and neat.
Flashy tracks like opening and title track "Ayo," the percussion heavy and guitar lick soaked "Galuma," the spectacular percussion rich "Ubou" punctuated by some dreamy backing vocals or the hip and raucous "Dungua," The Garifuna Collective draws the listener in with an infectious, feel-good sound. Other treat include the twangy guitar laced "Aganba," the sultry and seductive "Alagan" and the richly worked "Pomona."
Mr. Duran breathes a sigh of relief in explaining, "Since that album came out, there isn't any more fear that Garifuna music is going to die out. Andy's biggest legacy is just showing the way, proving that the world is interested in this cultures' music. It helped children in small villages to understand that their culture is just as important as anybody else's. That sense of self-pride is a potent message that continues to echo across Belize and inspire new musicians to keep their traditions thriving."
Now, that's a tradition to support.
Buy Ayo
Author:
TJ Nelson
TJ Nelson is a regular CD reviewer and editor at World Music Central. She is also a fiction writer. Check out her latest book, Chasing Athena's Shadow.
Set in Pineboro, North Carolina, Chasing Athena's Shadow follows the adventures of Grace, an adult literacy teacher, as she seeks to solve a long forgotten family mystery. Her charmingly dysfunctional family is of little help in her quest. Along with her best friends, an attractive Mexican teacher and an amiable gay chef, Grace must find the one fading memory that holds the key to why Grace's great-grandmother, Athena, shot her husband on the courthouse steps in 1931.
Traversing the line between the Old South and New South, Grace will have to dig into the past to uncover Athena's true crime.