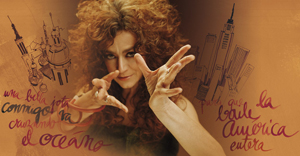 Spanish artists Carmen París, Depedro and Coque Malla are set to perform on Monday, June 10th at 8:00 pm at the New Music Seminar in New York city. The event is supported by the Sociedad General de Autores y Editores (SGAE).
"Our goal is to help with the promotion of our composers abroad at events that are essential to reach new audiences, such as the New Music Seminar," said Mercedes Ferrer, institutional director of Music at SGAE's Fundación Autor.
Carmen París has just released her fourth album titled Ejazz con Jota, in which she combines kyrics in English and Spanish to fuse the jota with rich jazz harmonies. The álbum was recorded in Boston with Greg Hopkins's Concert Jazz Orchestra, a 16-piece big band that includes internationally renowned musicians George Garzone and Joel Rosenblatt as special guests.
Jairo Zavala is better known as Depedro. He has just released a new album titled La Increible Historia De Un Hombre Bueno that features musicians from various parts of the globe: Tony Allen (Fela Kuti), Joey Burns and John Convertino (Calexico), Nick Urata (Devotchka) andy Bernard Fanning (Powderfinger). The album was recorded at Craig Schumacher's studio in Tucson (Arizona).
Coque Malla dedicates his latest album, Mujeres, to women. It's a compilation that features his collaborations with female vocalists from various generations: Jeanette, his mother Amparo Valle, Ángela Molina, Leonor Watling, Rebeca Jiménez, Laura Gómez Palma, Vilma, Alondra Bentley, María Rodés and Annie B. Sweet.
The Spanish showcase will take place at The Living Room. 154 Ludlow St.
Author:
World Music Central News Department
World music news from the editors at World Music Central