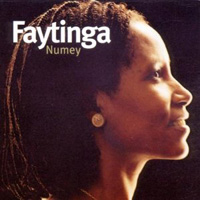 Faytinga
Numey (Cobalt 09294-2, 2000)
This CD is particularly interesting and attractive, since music from Eritrea is rare. The artist is a lady described by a French observer as 'somewhat the equivalent of a comrade-in-arms of Charles de Gaulle, with the talent of Edith Piaf and the beauty of Brigitte Bardot (at her peak!), Eritrean
version'.
The first track is 'Numey', meaning 'do not interrupt the story teller', and refers to the telling of an epic poem celebrating the heroism of combatants in an ancient battle – where the teller knows more than
listeners! Not a bad start for the daughter of a revered figure among one of the country's 9 ethnic groups – affectionately known to the 1950s' British colonial administrators as 'Fighting Gun'!
The daughter of course joined the liberation struggle in 1977 at the age of 14, and remained a combatant until victory was achieved in 1991. Superb credentials – but what about the music? Well, Faytinga sings with vigour, her rather shrill voice soaring above the accompanying Sbrit band – an Eritrean group supplying percussion, as well as playing krars (traditional lyres), wata and bengala (whatever they are!).
The lyrics in Kunama, helpfully summarised in the liner notes, focus on various historical, political and social themes. All in all, a fine and quite distinctive performance – pity it is so brief!
Buy Numey
Author:
William Bain
William Bain wrote these reviews while he was host of 'Chimes of Freedom' on CFFF/ Trent Radio (Peterborough, Ontario, Canada)