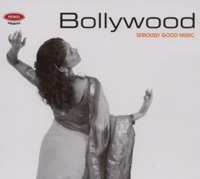 Various Artists
Bollywood: Seriously Good Music (Petrol Records, 2007)
Petrol Records has done it again with their "Seriously Good Music" series of world music compilations (see our earlier reviews of Petrol's two salsa compilations). Available at a highly affordable price, this is a great gift as well, particularly to give to your overseas visitors.
The 12 tracks pack an hour of fine contemporary Bollywood sound, with a good lounge feel and a DJ remix as well.
Our picks include Beedi from Omkara and Aaja Gufaon Mein Aa from Aks. Fun and funk, mood and melody, this compilation has it all. Not what fans of 70s Bollywood music would pick, this is definitely Bollywood 2.0.
Bollywood: Seriously Good Music
Author:
Madanmohan Rao
Madanmohan Rao is an author and media consultant from Bangalore, and global correspondent for world music and jazz for World Music Central and Jazzuality. He has written over 15 books on media, management and culture, and is research director for YourStory Media. Madan was formerly World Music Editor at Rave magazine and RJ at WorldSpace, and can be followed on Twitter at @MadanRao.