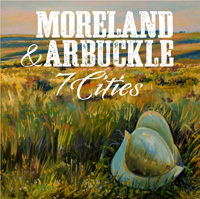 Moreland & Arbuckle
7 Cities (Telarc, 2013)
The sheer yumminess of the roots/rock mix of Moreland & Arbuckle's latest release 7 Cities is by turns a punch in the gut, a hearty slap on the back and a flirty wink of the eye. With five previous recordings to their credit like Floyd's Market and Caney Valley, both on, interestingly enough, Uncle Larry Records, and Just a Dream and Flood on the Telarc label, Moreland & Arbuckle are set to release 7 Cities on July 30th and plan to hit the road for tour dates this summer and fall throughout the U.S. Congratulations go to Telarc for their 2013 Keeping the Blues Alive Award handed out by the Blues Foundation in Memphis, Tennessee.
Inspiration for 7 Cities took an interesting turn when as singer and harmonica player Dustin Arbuckle put it, "I hollered out to Coronado/Come and meet me in The Dog/But he could not find his way/Through the morning fog." Suddenly, 7 Cities evolved into the tale of Spanish explorer Coronado and his search for gold, which ended on the plains of Kansas, close enough to where the band lives that they could reach out and touch it.
Guitarist Aaron Moreland explains, "Once we started picking out the rest of the songs for the record, we realized we had a theme – which we originally didn't intend to do."
Descriptions for Moreland & Arbuckle's music often include terms like garage band, roots, blues and hard rock. 7 Cities is no exception.
Mr. Arbuckle clues the listener in on the direction and changes in the band this way, "We've become a roots-rock band at this point, but I still believe part of what makes us so unique is our instrumentation. You don't see other rock bands doing the guitar, harmonica and drums thing. It's significant that this is our first album with Kendall – he has brought a lot to the table in terms of his versatility. He's a great drummer, but he's also a strong harmony singer, and has a lot of good ideas during the process of arranging the songs. He contributed a lot to this album."
Deliciously saturated with Aaron Moreland's electric, acoustic, resonator and cigar box guitars, Dustin Arbuckle's lead vocals and harmonica, Kendall Newby's drumming, percussion and backing vocals, 7 Cities gets an additional kick with Eric Corson on bass guitar, Josephine Howell on backing vocals and keyboardists Matt Bayles and Matt Benham.
Opening with searing guitar licks, 7 Cities begins with "Quivira," before slipping into the rocking "Kowtow," punctuated by Ms. Howell's sassy backing vocals. Working through the feel-good rock number "The Devil and Me," blues fans get a real treat with "Tall Boogie" with its edgy percussion and Mr. Arbuckle blowing his harmonica so sweetly.
Another goody is the instrumental track "Red Bricks" with its folksy Americana feel filled with acoustic guitar and harmonica against a shuffling rhythm. Working through driving numbers like "Road Blind" and "Everybody Wants to Rule the World," Moreland & Arbuckle lighten up on the listener with "Time Ain't Long" before closing with "Modern Boy."
Filled to overflowing with guitar and percussion soaked rock, country twang and low slung blues, 7 Cities is proof that Moreland & Arbuckle have yet again hit the listener right between the eyes.
Buy 7 Cities
Author:
TJ Nelson
TJ Nelson is a regular CD reviewer and editor at World Music Central. She is also a fiction writer. Check out her latest book, Chasing Athena's Shadow.
Set in Pineboro, North Carolina, Chasing Athena's Shadow follows the adventures of Grace, an adult literacy teacher, as she seeks to solve a long forgotten family mystery. Her charmingly dysfunctional family is of little help in her quest. Along with her best friends, an attractive Mexican teacher and an amiable gay chef, Grace must find the one fading memory that holds the key to why Grace's great-grandmother, Athena, shot her husband on the courthouse steps in 1931.
Traversing the line between the Old South and New South, Grace will have to dig into the past to uncover Athena's true crime.