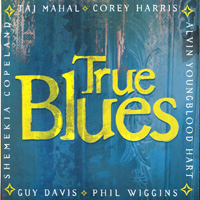 Various Artists
True Blues (Telarc, 2013)
All right my little blues babies, wake up, rub that crusty sleep from your eyes and pull your pants up. I'll wait…hmmm…ready? Listen up all you overworked, underpaid, unrepentant sinners and blues fans because the CD True Blues out on the Telarc label is set to hit the streets and the invisible highways and byways of the internet on May 28th.
Power packed with the likes of Guy Davis, Alvin Youngblood Hart, Corey Harris, Taj Mahal, Phil Wiggins and the blues songstress Shemekia Copeland, True Blues was recorded live at various concerts around the U.S. and at the Lincoln Center in New York City. Rumors have it that the companion DVD, produced by Corey Harris and Daniel Patinkin will be release later in the summer.
Guitarist, singer, composer and the 2007 MacArthur Genius Grant recipient Corey Harris reminds us that the blues are "the foundation of all contemporary music." He insists, "Funk music, rock and roll, jazz, hip-hop – all of that didn't generate by itself."
Ms. Copeland, daughter of the Texas blue guitarist Johnny Copeland and a Grammy-nominated blues vocalist sheds some light on her story this way, "I think the blues is about telling your story. It's been part of my life for my entire life. It's what put food on our table. My father supported our family by making this music. That's why it's important for me to let people know that it's constantly growing and evolving."
Harmonica player Phil Wiggins lends his slant on the blues saying, "You have some sadness, or you have some trouble in your life sometimes and then sometimes you have joy. The blues is really about all that. It's not just about one emotion or one part of life. It's about all your life."
From the strains of the opening "Hoochie Coochie Man," covered by Guy Davis, Corey Harris, Alvin Youngblood Hart and Phil Wiggins at Jazz at Lincoln Center through to the last notes of closing track "Ramblin' On My Mind," performed by Shemekia Copeland, Corey Harris, Alvin Youngblood Hart and Phil Wiggins live at Lincoln Center, True Blues will have fans wallowing around in this contemporary take on the blues until their fingers get pruny.
Fans get a healthy dose of guitarist and singer Alvin Youngblood Hart on "Motherless Children Have a Hard Time" from his performance at The Howard Theatre in Washington, D.C., as well as guitarist and singer Corey Harris on "Everybody Ought to Make a Change" from his performance at the House of Blues in Los Angeles, California.
Taj Mahal savagely works over "Done Changed My Way of Living" from his performance at Rams Head On Stage from Annapolis, MD. The goodies just keep coming with "Saturday Blues," "Roberta" and the harmonica soaked "Prayers and Praises" by Phil Wiggins from a performance at The Gibson in Washington, D.C. Ms. Copeland's "Bring Your Fine Self Home" and Taj Mahal's "Mailbox Blues" are so good as to make ordinary people go out and howl at the moon.
Each and every performance on True Blues is precious, not just in is execution but by the very fact that these musicians are intent on keeping this form alive with innovation, collaboration and live shows. True Blues is a true delight. Unfortunately, it will leave fans saying 'oh, so much more of this. Pretty please.'
Fans should be encouraged to check out their local performance spaces for tour dates for Mr. Harris, Mr. Mahal, Ms. Copeland, Mr. Davis, Mr. Youngblood Hart and Mr. Wiggins. Now if that doesn't make facing a long, hot summer bearable, then nothing will.
Buy True Blues in North America
Buy True Blues in Europe
Author:
TJ Nelson
TJ Nelson is a regular CD reviewer and editor at World Music Central. She is also a fiction writer. Check out her latest book, Chasing Athena's Shadow.
Set in Pineboro, North Carolina, Chasing Athena's Shadow follows the adventures of Grace, an adult literacy teacher, as she seeks to solve a long forgotten family mystery. Her charmingly dysfunctional family is of little help in her quest. Along with her best friends, an attractive Mexican teacher and an amiable gay chef, Grace must find the one fading memory that holds the key to why Grace's great-grandmother, Athena, shot her husband on the courthouse steps in 1931.
Traversing the line between the Old South and New South, Grace will have to dig into the past to uncover Athena's true crime.