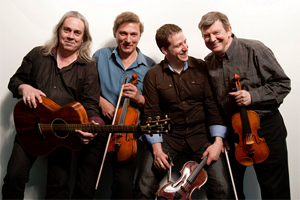 Renowned ensemble Celtic Fiddle Festival will be touring the UK from May 29th – June 16th 2013 to celebrate its 20th Anniversary. Celtic Fiddle Festival will also present its new album titled 'Live In Brittany', released this month. The new album 'Live in Brittany' was recorded during January 2013 in the town of Guéméne-sur-Scorff in Brittany, France. For the three fiddlers this will be their third CD together but for Nicolas "Live in Brittany" will be his first recording with the group.
Today's Celtic Fiddle Festival lineup features Kevin Burke (Ireland), Christian Lemaitre (Brittany) and André Brunet (Quebec), together with accomplished Breton accompanist, Nicolas Quémener.
In its earliest days, twenty years ago, the lineup included, Kevin, Christian, renowned Scottish fiddler Johnny Cunningham and virtuoso guitarist John McGann of Massachusetts. Sadly, the two Johns passed away as a result of both parties suffering sudden and tragic illnesses. For a brief time it appeared as if the Celtic Fiddle Festival would no longer continue but morale was soon restored. Both Kevin and Christian embraced the addition of André Brunet's energetic Quebec fiddling and, most recently, Nicolas Quémener's creative accompaniments have brought a rich musical confidence to the group.
The inspiration behind the formation of the Celtic Fiddle Festival has proven to be an innovative and enduring concept – to highlight the unique qualities of the three distinct fiddle traditions while at the same time showing the strength and power that can be generated when they come together.
The Celtic Fiddle Festival Catalog
Live In Brittany (2013) with Kevin Burke, Christian Lemaître, Andre Brunet, Nicolas Quémener
Équinoxe (2008) with Kevin Burke, Christian Lemaître, Andre Brunet, Ged Foley
Play On (2005) with Kevin Burke, Christian Lemaître, Andre Brunet, Ged Foley;
Rendezvous (2001) with Kevin Burke, Johnny Cunningham, Christian Lemaître, Ged Foley
Encore (1998) with Kevin Burke, Johnny Cunningham, Christian Lemaître, Soïg Siberil)
Celtic Fiddle Festival (1993) with Kevin Burke, Johnny Cunningham, Christian Lemaître)
Author:
World Music Central News Department
World music news from the editors at World Music Central