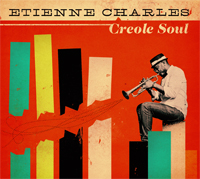 Etienne Charles
Creole Soul (Culture Shock Music, 2013)
Trumpeter Etienne Charles's Creole Soul isn't World Music Central's usual fare, but because our readers are clever, worldly and there's probably a good number of jazz fans amongst the lot of you I'm going to make an exception. While the world music threads on the latest by this Trinidad-born musician and composer are a bit tenuous, there is a Caribbean flavor woven throughout the fabric of Creole Soul.
With previous recordings that include Folklore, Kaiso and Culture Shock, Mr. Charles, a professor at Michigan State University, leaves nothing out of the mix on Creole Soul in his continuing musical exploration and incorporating his own Caribbean roots, along with French, Spanish, Calypso, R & B, Reggae and blues influences, to create a savagely bold jazz sound that is captivating.
Joined by Jacques Schwartz-Bart on tenor saxophone, Brian Hogans on alto saxophone, Alex Wintz on guitar, Obed Calvaire on drums, D'Achee and Daniel Sadownick on percussion, Kris Bowers on piano on Fender Rhodes and Ben Williams on bass, Mr. Charles reigns supreme on trumpet and fugelhorn and offers up percussion as well. Opening with Haitian chant by Erol Josue on "Creole," before slipping into some delicious percussion on the extension of "Creole," Mr. Charles and company heat up this high-energy jazzy track that thrums with a yummy underlying funk before more goodness from Mr. Josue.
Possessed of a subterranean smoothness, Creole Soul moves slickly into "The Folks," before slipping into the clipped hipness of "You Don't Love Me," punctuated by some dishy bass lines provided by Mr. Williams and piano by Kris Bowers. Throughout Mr. Charles's neat, sharply worked trumpet playing will have fans sitting up and begging for more. There is plenty to laud on Creole Soul, tracks like the Caribbean rhythms that saturate "Roots" or the mellow turns of "Memories" or the silky smoothness of Thelonious Monk's "Green Chimneys."
Fans also get a version of Bob Marley's "Turn Your Lights Down Low." Equally good is the lovely "Midnight," the dreamy "Close Your Eyes" and closing track "Doin' The Thing."
While I would put Mr. Charles squarely in the jazz genre, there is plenty of an international flavor on Creole Soul. The heady explosive potency of Mr. Charles on the trumpet is reason enough to check out this recording. Fans should also note that Mr. Charles is headed out on a world tour, so fans should be sure to check out the schedule for a chance to hear Mr. Charles in person.
Buy Creole Soul
Author:
TJ Nelson
TJ Nelson is a regular CD reviewer and editor at World Music Central. She is also a fiction writer. Check out her latest book, Chasing Athena's Shadow.
Set in Pineboro, North Carolina, Chasing Athena's Shadow follows the adventures of Grace, an adult literacy teacher, as she seeks to solve a long forgotten family mystery. Her charmingly dysfunctional family is of little help in her quest. Along with her best friends, an attractive Mexican teacher and an amiable gay chef, Grace must find the one fading memory that holds the key to why Grace's great-grandmother, Athena, shot her husband on the courthouse steps in 1931.
Traversing the line between the Old South and New South, Grace will have to dig into the past to uncover Athena's true crime.