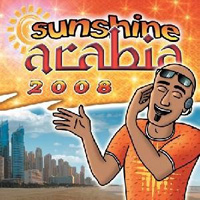 Various Artists
Sunshine Arabia 2008 (EMI)
This is an excellent compilation of contemporary Arabic sound, with 18 tracks covering a lot of musical texture. Our picks include "Meen Allak" by Sewar and "Eb Alek" by Soma.
The classic tracks "Bint el Shalabiya" by REG and "El Hob Dayali" by Lella are also included. Other popular Arab musicians Amr Mostafa and Walid Toufic are featured as well.
We would also recommend the earlier annual compilations of this series for good snapshots of Arabic popular music through the years. In sum, this album is a fine start for your parties. Be sure to check out the Putumayo and Petrol compilations of Arabic music as well.
Author:
Madanmohan Rao
Madanmohan Rao is an author and media consultant from Bangalore, and global correspondent for world music and jazz for World Music Central and Jazzuality. He has written over 15 books on media, management and culture, and is research director for YourStory Media. Madan was formerly World Music Editor at Rave magazine and RJ at WorldSpace, and can be followed on Twitter at @MadanRao.