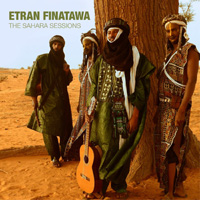 Nigerien band Etran Finatawa has a new album titled The Sahara Sessions (TUGCD1071). This recording was made deep in the desert. Sheltered only by an animal-skin tent and the vast canopy of midnight stars, Etran Finatawa played their guitars and sang.
The Sahara Sessions opens with 'Matinfa', a gently rippling introduction peppered with traditional percussion; tendé, calabash and azakalabó (a calabash drum that floats in water) drums are all heard. The song title translates as 'What Is This For?' and is the first signifier of the album's intent to comment on the tumultuous status of the Sahel region today.
Although Niger has displayed a firm opposition to separatism that plagued neighboring country Mali in 2012, the troubles have inevitably caused insecurity in the Sahel region and the threat to the countries rich and varied cultures is a very real concern.
Etran Finatawa's members are of Tuareg and Wodaabe heritages – neighboring tribes that both live as nomads. Water shortages and land disputes have led to deep-set economic issues that cause conflict and misunderstanding across communities. The work Etran Finatawa does to promote unity and understanding is invaluable.
The album presents a collection of tracks: some fixed compositions developed and created by the band and others spontaneous improvisations that capture the spirit of the tent recordings. Songs such as 'An Mataf Germanawen' (Union) and 'Issuad' (Let's Come Together) patiently call for attention to be paid to the political situation.
Various guests also join then band on the album – arrangements that occurred organically and were spontaneously initiated. One of these, a Tuareg percussionist by the name of Ayouba arrived at the camp one night, revving out of the darkness on his motorbike. Before long Ayouba had set up his calabash drum and was spreading his contagious high-energy vibe like wildfire. His articulations can be heard on the three tracks 'Matinfa', 'Icheraid Azaman' and 'Toumast'.
'Wa Oyan A Wa Imouss I Bastila' is an excerpt from an improvisation with Abdourahaman Ag Ibrahim, a well-known local griot (praise-singer and oral historian), who came to visit the tent where Etran Finatawa were recording.
Preorder at: The Sahara Sessions
Author:
World Music Central News Department
World music news from the editors at World Music Central