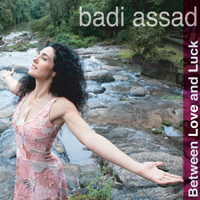 Badi Assad
Between Love and Luck (Quatro Ventos, 2013)
With previous recordings like Rhythms, Echoes of Brazil, Wonderland and Chameleon, Brazilian guitarist, songwriter and vocalist Badi Assad takes delight in dazzling listeners with her unique blend of pop, jazz and Brazilian music. Of course, the talent might come from the blood as her brothers are Sergio and Odair Assad, perhaps better known as The Assad Brothers, the respected classical guitar duo. But Ms. Assad has earned her reputation.
With a best guitarist nod from Guitar Player Magazine, a ranking among the best 100 albums for her recording Wonderland by the BBC and playing with the likes of Bobby McFerrin, Yo-Yo Ma, Sarah McLachlan and Seu Jorge, Ms. Assad has proved to be innovative in her approach to music while garnering a devoted fan following.
Ms. Assad's latest Between Love and Luck, proves again her prodigious talent with these 14 lush tracks set for release on May 14th on the Quatro Ventos label. Along with percussionist Gilherme Kastrup and multi-instrumentalist Marcio Arantes who both produced the album, and special guests like acoustic steel string guitarist Webster Santos, saxophonist and clarinetist Ivan de Andrade, cellist Dimos Goudaroulis and violist Ricardo Herz, Ms. Assad takes the listener on a personal musical journey.
Composing most of the songs on Between Love and Luck, as well as providing vocals and acoustic guitar, Ms. Assad delves deep into her personal experiences with love, motherhood and finding that balance in life.
Diving deep into fiery lusciousness, listeners are immersed into the hip "Ultraleve," before giving way to electronically tinged and deliciously inventive "Pega No Coco." Ms. Assad's astonishing guitar lines and voluptuous vocals abound throughout Between Love and Luck, which is a nicely worked mixed bag with languorous tracks like "Between Truth and Luck" or the sweetly, folksy feel of "Noite De Sao Joao" or the funky edges surrounding "Catch," where Ms. Assad steps out from her Portuguese to lure listeners with English lyrics.
There's some lovely, sultry numbers like "To Reach My Heart" and "O Barco Daqui de Dentro." There plenty of electronica throughout, but on tracks like "Eu Vim Daquele Lugar" it really lends to the atmosphere.
Perhaps my favorite is the soulfully jazzy closing track "Mar Egeu" where the Brazilian jazzy edges will have fans begging for more.
Ms. Assad fans should take note of her upcoming United States tour in July to celebrate Between Love and Luck. Fans should check out the California World Fest, San Francisco and Santa Cruz shows and shows planned for the Austin Chamber Music Society in Austin, Texas. Rumors are also about that New York and Boston shows will be added. For the rest of lowly souls, we'll just have to dream away with the CD version of Between Love and Luck.
Author:
TJ Nelson
TJ Nelson is a regular CD reviewer and editor at World Music Central. She is also a fiction writer. Check out her latest book, Chasing Athena's Shadow.
Set in Pineboro, North Carolina, Chasing Athena's Shadow follows the adventures of Grace, an adult literacy teacher, as she seeks to solve a long forgotten family mystery. Her charmingly dysfunctional family is of little help in her quest. Along with her best friends, an attractive Mexican teacher and an amiable gay chef, Grace must find the one fading memory that holds the key to why Grace's great-grandmother, Athena, shot her husband on the courthouse steps in 1931.
Traversing the line between the Old South and New South, Grace will have to dig into the past to uncover Athena's true crime.