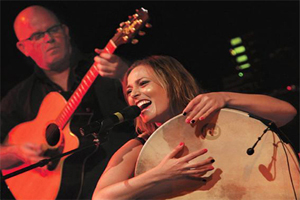 Mira Awad's song Bahlawan (Acrobat) is the first place winner in the World Music category at the International Songwriting Competition (ISC). Mira Awad is a Palestinian-Israeli actress, singer and songwriter. She was born in the Rama village in the Galilee to a Palestinian father and a Bulgarian mother. Mira studied at the Rimon School for Jazz and Contemporary Music from 1996-2000.
Mira participated in improvisational workshops in Israel and the UK sponsored by the BIArts, British Council, and studied in the body theatre school with a scholarship from the America-Israel Culture Foundation.
One of her best known collaborations was her work with celebrated Israeli singer Noa (Achinoam Nini) in her album "Now". She also participated in Idan Raichel's second album "Mema'amakim."
Mira also works as an actress with the Tel-Aviv Cameri Theatre, and on the TV series "Arab Labour". She is featured in the movie "The Bubble", directed by Eytan Fox and recorded the theme songs for the films "Forgiveness" by director Udi Aloni, and "Lemon tree" by Eran Riklis. Her debut album "Bahlawan-Acrobat" was released in May 2009, and was musically produced by guitarist Amos Ever-Hadani.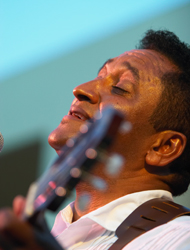 Second Place went to 'Sofrimento' by renowned Angolan musician Waldemar Bastos. The winner of the third place is 'Boom Boom' by Dachee from Maplewood, New Jersey (USA).
ISC's Grand Prize was awarded to Joshua Hanson of Irvine, California, USA, for his song "Monsters With Misdemeanors," entered in the Folk/Singer-Songwriter category. The Grand Prize winner is awarded $25,000 in cash (US) and an additional $40,000 in merchandise and services. Joshua Hanson is the lead singer and songwriter of the award-winning indie folk-rock trio Yellow Red Sparks
A total of 68 winners from 119 countries worldwide were selected from over 20,000 entries, and for the first time ever, more than half of the winners are from outside the USA.
"ISC's mission is to inspire and promote greatness in the field of songwriting," says Candace Avery, Founder and Director. "It is humbling to hear so many talented songwriters, and it is gratifying to play a part in the growth of the winners' careers."
Established in 2002, ISC awards more than $150,000 in cash and prizes to amateur and professional songwriters around the world.
Judges included iconic artists Tom Waits, Nas, Suzanne Vega, McCoy Tyner, Martina McBride, Susan Tedeschi, Bernie Taupin, Keane, Tegan and Sara, Bruce Hornsby, and many more. In addition to celebrity artists, judges also included seven record label presidents as well as other industry leaders, offering songwriters the unprecedented opportunity to have their music heard by influential decision-makers. See below for the complete list of judges.
For a complete list of 2012 ISC winners and to hear the winning songs, go to http://www.songwritingcompetition.com/winners
Author:
World Music Central News Department
World music news from the editors at World Music Central