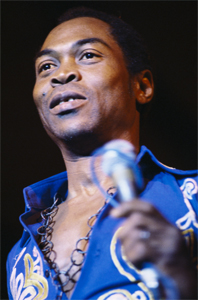 To honor Nigerian idol and Afrobeat inventor Fela Kuti and to celebrate the re-packaging and re-release of his entire catalogue, Knitting Factory Records in association with one of London's leading concert promoters, AGMP, will present a tribute to Fela Kuti on Friday, May 17 2013, 8pm, at the 229 club in London.
The organizers reached out to a number of artists, some of whom knew Fela well and worked with him. The musicians include Ginger Baker (famed rock drummer and Fela collaborator), Tony Allen (previously Fela's drummer) and Dele Sosimi (previously Fela's keyboardist) – and others who simply wished to express their admiration and respect by taking part in a unique concert.
Alongside Fela's contemporaries, this concert will also see a younger generation of artists, who are influenced by the Afrobeat legend: Keziah Jones, Shingai Shoniwa (of The Noisettes), TY, Blak Twang, Afrikan Boy, BREIS, Terri Walker, KOF and Bumi Thomas.
The musicians, singers and rappers will offer their interpretations of Fela songs and will collectively contribute to an evening aided and abetted by the musical backdrop provided by the inimitable Dele Sosimi and his Afrobeat Orchestra. Plus Koichi Sakai (Afrobeat Vibration) on the decks and an after party with DJs Rita Ray & Max Reinhardt bringing The Shrine vibe to central London.
Saluting the Black President will be:
Ginger Baker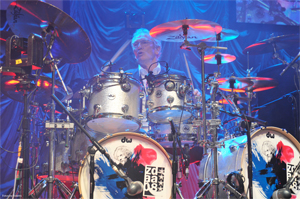 Legendary Cream drummer Ginger Baker is known as "Rock's first superstar drummer". But he is also noted for his involvement in African and Jazz music. He lived in Nigeria from 1970 till 1976 and in 1971 recorded a live album with Fela (Fela with Ginger Baker Live!), which was recently included in a list of 40 Best Live Albums on The Quietus website.
"I met Fela in the early 60s when he used to sit in at the all-nighters at the Flamingo. We became good friends. When I arrived in Nigeria in 1970 I met Fela again – this led to many musical adventures. Fela was a fantastic fellow, a great friend, I loved his music. Tony Allen was Fela's drummer/band leader and we too became good friends. I last played with Tony at the Zildjian Awards in 2008; I'm looking forward to meeting again."
Keziah Jones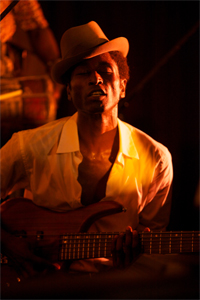 Nigerian singer-songwriter, guitarist and creator of 'Blufunk' Keziah Jones began his musical career busking in London and Paris in the early 1990s.
Keziah's music is influenced by Fela Kuti, Miles Davis and Jimi Hendrix but it was his unique style and presence that led to a record deal with the influential French label, Delabel in 1992. Since then Keziah has released a series of acclaimed albums all over the world, including his groundbreaking album Black Orpheus on which he sings about religion, negritude, beauty, subjugation and love.
His 2007 album Nigerian Wood delved deeper into those themes and explored the confrontation between African avant-garde and American black music. Keziah is currently working on a new album and he is due to support The Rolling Stones in Hyde Park on 13 July.
"It's an honor to be a part of this event celebrating the life and legacy of Fela. In terms of artistic creativity he made it possible for me and subsequent generations of African artists to be acknowledged purely on their own terms."
Tony Allen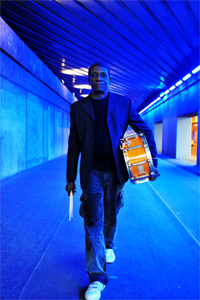 Drummer Tony Allen was instrumental in the creation of Afrobeat. He was an original member of Fela's Koola Lobitos highlife-jazz band and later of Fela's Africa 70 band (1968-1979). Brian Eno has described him as "perhaps the greatest drummer who has ever lived."
During the years since Fela's death in 1997 Allen has become recognized as one of the leading figures in Afrobeat and has earned a great reputation with musicians and fans alike.
His recent solo discography includes Black Voices (1999), followed by Home Cooking (2002), Every Season (2002), Eager Hands & Restless Feet (2002), Tony Allen Live (2004), Lagos No Shaking (2006), and Secret Agent (2009).
"When I was invited to take part in this event I couldn't resist. Firstly to honour a man with whom I played for so many years and for whom I have nothing but affection and respect. Also just the idea of climbing back onstage with Ginger Baker thrilled me. At the Berlin Jazz Festival in 1978 we joined to play a 15-minute drum solo. This guy can play! And here we are again, 35 years later. I can't wait!"
Dele Sosimi
Keyboard player Dele Sosimi was the musical director of Fela's Egypt '80 band (1979–1986), and he later became the founding member, musical director and band leader of the Positive Force (1986 to 1994), the band of Fela's son Femi Kuti. The Afrobeat musician, composer, producer and educator is now UK-based and leads his own band, the Afrobeat Orchestra.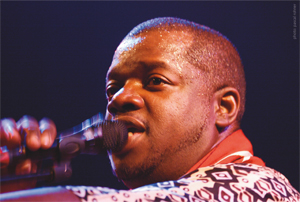 "To celebrate Fela is more than an honor – it's my duty. Fela is the reason Afrobeat music is in my DNA, coarsing through the essence of my being and coming out in the various formats that I perform in, to a devout worldwide audience of Afrobeat enthusiasts who will take advantage of every opportunity to savor appreciate and gyrate to this unique genre.
The legacy of Fela will live on and pass on from us onto the next generation ad infinitum! Long live Fela! Long live Afrobeat!"
Shingai Shoniwa (The Noisettes)
Fela was a Pan-Africanist, which was clear by his lyrics and statements (he was also friends with Burkina Faso's revolutionary leader and famous Pan-Africanist Thomas Sankara), so it's fitting that alongside many talented musicians with Nigerian roots, the event also features none other than Shingai Shoniwa, vocalist and bassist for the UK indie rock band Noisettes. Born to Zimbabwean parents Shingai will also represent the spirit of the strong African woman, like Fela's mother and his Queens.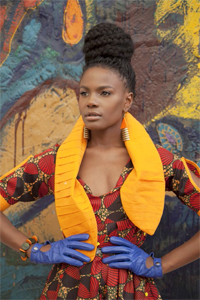 "I am very proud to be honoring Fela in the forthcoming tour de force that will be 'Saluting the Black President'. His classic song 'Lady' is an uplifting masterpiece that celebrates the role and impact of women in African society. Throughout the lyrics Fela effortlessly cites what he loves about the attitude and grace of the 'African Woman' with a timeless wordplay, powerful enough to make you laugh until you cry. Fela's poetic observation inspires me to no end as a musician and performer, proudly infusing my African roots throughout my international work. I'll be looking forward to channeling the spirit of our great uncle of Afrobeat on stage. It won't be long until you realize that you haven't danced until you've danced the 'fire dance'."
TY
A consummate live performer, with a career spanning more than a decade, rapper and producer TY, born Ben Chijioke, has worked alongside other hip-hop acts such as Scratch Perverts, Talib Kweli and Arrested Development, collaborating on tracks with a whole host of artists, including De La Soul.
"It's an honor to celebrate the legacy of one of the most important men in music. Working with Tony Allen helped me appreciate the intricacies in Fela's work, his flawless band leadership is something that I take with me everywhere I go. True Afrobeat is hypnotic, yet noble."
Blak Twang
One of the pioneers of UK hip-hop, Blak Twang is known for his worldwide live performances and his ability to blend London slang with conscious lyrics. This unique technique makes him a firm favorite with hip-hop fans as the original South London Rebel.
"Growing up in my house, my parents played lots of Fela's music. My family and Fela's family are from the same area in Abeokuta and they attended the same church where Fela's father was the Pastor. Fela was like the superhero, the people's Champion that was the voice of the voiceless. When I was asked to be a part of it, I was honored because his music has truly been a big influence on my musical content and helped shape me as the artist I am today."
Afrikan Boy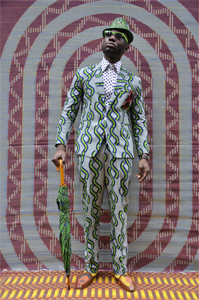 The Nigerian-born London-based grime MC Afrikan Boy has worked with artists such as M.I.A. and The Very Best and has performed globally, including at Damon Albarn's Afrika Express shows.
"This project is the closest I will get to our late Black President. Fela was and still is a huge fountain of inspiration to my music. In many ways you can say he lives through our music through his music. The new generation is learning and taking his messages to the new world. I represent the image and power of Fela through my own performances to remind people of our roots and culture! I no be gentleman at all o! I be Afrikan Boy Original!"
BREIS
BREIS (breeze) is a London-based hip-hop lyricist. His sound is a fusion of the hip-hop, Soul and Afrobeat he listened to growing up in both the UK and Nigeria. He has toured internationally and shared the stage with artists such as Black Thought (of The Roots), Angie Stone, Nneka, Les Nubians, Tony Allen and Kim Burrell and in 2012 was invited to give a TEDxYouth talk and performance.
"It's an honor to be part of this event. The way Fela presented his music to the world was totally unique. On stage he would sing, discuss issues, dance, play the music, interact with the people, orchestrate the band and dancers. I've learned a lot from him. Let's do this!"
Terri Walker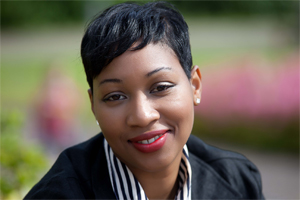 Terri Walker is one of the UK's premiere Soul singer-songwriters. The Mercury and MOBO nominated artist has a career reach that spans 10 years and the globe. Terri has worked with some of the world's best including Duran Duran, Jennifer Hudson, Damon Albarn (Africa Express), Truth & Soul and many more.
"It is an immense honor to be a part of the celebration of such a pioneer in music. Fela set the standard!"
KOF
KOF is a singer-songwriter from Liverpool, who is considered one of the most successful and excited unsigned talents in the UK – with a superb live show, consistent radio and TV support, critically acclaimed releases as well as co-signs by top industry insiders, KOF is earning his 'One To Watch' status.
"Being a part of this project is an honor. Fela Kuti was a great musician and the fact that he had a message in his music makes him an amazing artist which is something I strive to be. Not only am I excited to be performing some of his works with the Afrobeat Orchestra, but to soak up the experience and wealth of knowledge from the other musicians that I will be sharing the stage with"
Bumi Thomas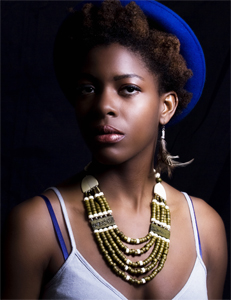 Bumi Thomas is a soulful contemporary Nigerian acoustic jazz-folk singer and songwriter whose style is inspired by her multicultural heritage. Her music explores identity, sensuality, Love, spirituality, retrospective and cross-culturism. Inspired by life, the emotional spectrum of the human experience and the opportunity to drive positive change using art and music as the mechanism of empowerment. Bumi's sound is a synergy of jazz, folklore, high life, afro-beat rhythms, reggae grooves and tribal nuances. Her organic fusion of ornate rhythms, thought stimulating lyrics, ambient melodies infused with funk and delivered with soul. Her debut EP Feather Pearl will be released in the summer.
"It is an honor to be part of this event and celebrate Fela's philosophy of empowerment and consciousness through musical liberation. Afrobeat is the sonic frontier of a new perception that has reached in to stir the souls and warm the hearts of many generations – I am so happy to contribute to this fertile legacy."
DJs Max Reinhardt & Rita Ray (The Shrine)
DJ broadcasters Max Reinhardt (Late Junction/ BBC Radio 3) and Rita Ray (BBC World Service) have over the years created a host of innovative club nights in London and beyond. They were at the forefront of the rebirth of Afrobeat with their big-eared subversive London Shrine club nights. Through the Shrine Synchro System, their band by other means, the duo collaborate with the cream of African and Afro-inspired artists and visuals to create a touring Afrobeat-inspired Afrocentric roots and digital mix. They wrote and presented the radio documentary 'In Search Of Fela Kuti' and are currently writing the book 'Talkin' About Fela'.
"Musically and politically Fela is one of the most significant voices of the 20th century we've got to help us through the 21st."
DJ Koichi Sakai (Afrobeat Vibration)
Koichi Sakai is a DJ, producer and the founder of legendary Afrobeat Vibration with Dele Sosimi. His passion of Afrobeat made him to produce the cover version of Fela's classic 'Eko Ile' featuring Adesose Wallece, which is available on limited 7″ vinyl and digital on iTunes.
"When I discovered Fela's music, I was impressed that structure of Afrobeat is just like house music. As I dug more, Fela's colorful life and personality got me into more Afrobeat musically and spiritually. I adore him so much."
Recently unearthed footage of Fela performing in Paris in 1984
Video footage of his regular nights at the Shrine in Lagos
Friday, 17 May 2013, 8pm, at 229, London
229 Great Portland Street, London W1W 5PN, nearest tubes (subway stations): Great Portland Street, Regent's Park
8pm – 3am (live music 8:30pm – 11pm)
Tickets £20 in advance online from agmp.co.uk, eventim.co.uk, ticketweb.co.uk, seetickets.com, gigantic.com, stargreen.com or from the 24-hour ticket line: 0844 249 1000
Author:
World Music Central News Department
World music news from the editors at World Music Central