Bob Holroyd – In Motion (Sounds True, 2013)
Shamans Dream – Prana Pulse (Sounds True, 2013)
I'm going to stray from the well-worn world music path, although just by inches, to introduce a couple of offerings from the Sounds True label. Sounds True is much more than a music label, offering a whole host of products that include instructional DVDs, learning kits, books, spoken word audios and music. Striving to full a mission "to disseminate spiritual wisdom," Sounds True has sent us a couple of goodies that might tempt our readers. Prana Pulse – Music for Yoga, Love & Estactic Dance by Shamans Dream is available now and In Motion by Bob Holroyd is set for release on May 1st.
Mr. Holroyd might be recognizable by some for his previous recordings like Beachcombing, Afterglow and Hollow Man on the Soundscape label and Without Within on the Six Degrees label. Crafted with the yoga practitioner in mind, In Motion captures the flow from stillness through to retrospection. While I cannot speak to each person's yoga rituals, I can say that In Motion offers up an elegant musical landscape for the practice of yoga or just dreaming up a fantastical landscape in the mind.
Cinematic in feel, In Motion provides a hypnotic blend of electronica, Asian and African influences. Fans should be sure to take a listen to the guitar and string laced opening track "Moment," as well as "Samsara," "Sacred Light" with its children's chant loop, or the sultry "All Colours (Part 1)" and the mesmerizingly revolving rhythms of "Darwin's Dream." The African tinged "Overland" is another stunner. I don't know if it will improve your half-moon pose, but In Motion is lushly worked.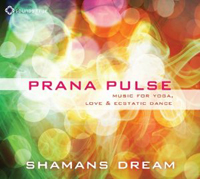 Shamans Dream is the collaboration of Craig Kohland and electronic producer Bluetech. Previous works include Prana, Breathing: Music for Yoga, Meditation & Healing, African Dream and Mr. Kohland's Kerala Dream: A Shaman's Dream Project.
Prana Pulse is intended "to utilize the power of music as a medicine guide for going inside ourselves to find the capacity to express our full creative nature." While I can't make such a guarantee, the music of Prana Pulse provides a sweeping musical landscape for yoga or your inner journey needs. Ripe with electronica and dishy percussion, Prana Pulse opens with "Calling Spirits" replete with chant and birdsong before moving onto such gems like the drum heavy "Into the Timeless," the Asian slanted "Mother Water" or the hopelessly addictive electronica saturated "The Way Through" and "Giving Gifts." Equally wonderful is title track and percussive heavy "Prana Pulse," followed up by the Asian inspired "Breath of Ma" and the soothing "Nectar." Prana Pulse is exotically seductive.
While not strictly world music, Prana Pulse and In Motion both possess an otherworldly feel to them, prompting the listener to craft up their own landscape. And, sometimes it's that inner landscape we must travel to get us where we need to go.
Buy In Motion and Prana Pulse
Author:
TJ Nelson
TJ Nelson is a regular CD reviewer and editor at World Music Central. She is also a fiction writer. Check out her latest book, Chasing Athena's Shadow.
Set in Pineboro, North Carolina, Chasing Athena's Shadow follows the adventures of Grace, an adult literacy teacher, as she seeks to solve a long forgotten family mystery. Her charmingly dysfunctional family is of little help in her quest. Along with her best friends, an attractive Mexican teacher and an amiable gay chef, Grace must find the one fading memory that holds the key to why Grace's great-grandmother, Athena, shot her husband on the courthouse steps in 1931.
Traversing the line between the Old South and New South, Grace will have to dig into the past to uncover Athena's true crime.