Legendary jazz guitarist and fusion pioneer John McLaughlin will be touring the United States and Canada in June 2013. This will be his first U.S. tour in three years. The renowned musician will be presenting material from his latest album, 'Now Here This' released a few months ago, as well as earlier pieces. McLaughlin also appears in the latest album by Indian slide guitar master Debashish Bhattacharya titled Beyond the Ragasphere.
John McLaughlin talks about his current projects and background with World Music Central's Angel Romero.
You will be touring the United States in a few weeks. What material will you be presenting to American audiences in June?
Our repertory includes music from Mahavishnu up to the last CD 'Now Here This'. This amounts to a list of pieces going back almost 40 years.
What lineup are you bringing for this tour?
As you know, my group for the past 7-8 years is the 4th Dimension. The lineup is Gary Husband playing keyboards and additional drums. Etienne M'Bappe on bass-guitar and drummer Ranjit Barot. They are all featured on the last recording 'Now Here This' which I mention above.
Your tour includes concerts at theaters, clubs and a major festival (Bonnaroo). Do you change the musical selection and delivery depending on the venue?
Since we have such an extensive repertory, we can change what we play pretty spontaneously. That said though, we will definitely be playing music from the last CD since it's never been performed in the US.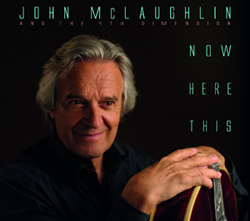 Now Here This is your latest recording. Tell us a little about it. Who plays in the album and in which direction did you go?
I do speak about it above including the lineup, and I have to say that I'm very happy with this recording. The group as it stands today is outstanding even though I say it myself. Gary, Etienne and Ranjit are wonderful musicians and human beings.
Regarding direction, basically the music determines the direction. What is clear to me on listening back to this recording, is that I hear aspects of all my musical experiences. This includes Mahavishnu, Shakti, the Guitar Trio and other more subtle ones. On the other hand, it is definitely the 4th Dimension. This group has existed since around 2004, and we have our own sound and vibe.
Some of your recordings have a connection with John Coltrane. What do you find in John Coltrane's music that has influenced you so much?
John Coltrane has been a pivotal figure in my life. Not only as a great musician and artist, but as a profoundly aware human being: aware of his true spiritual nature. He has been a source of both inspiration and consolation in periods of doubt.
I should point out that Coltrane was able to integrate the spiritual dimension of the human being with his recording 'A Love Supreme'. This was an amazing achievement. Over the years, musicians analyse the music of musicians they admire. Coltrane is one of these musicians, but he was someone I revered more than admired.
How do you find new musicians for your various projects?
It's just the same as when we find friends; we become friends with other people because of some innate connection which we can't really explain. It's the same with musicians, the only difference is that it's easier to identify musicians who are on the same wavelength as you because you can hear them play, and you simply know.
You've worked with Indian musicians and Flamenco guitarists. How did those experiences affect you?
Working with Indian and Flamenco musicians are some of the most enriching experiences of my life. I will always be grateful being a musician because it has given me these experiences. We learn everywhere, but to discover new ways of expression and articulation of inner sentiments by association with other cultures is perhaps one of the best we can have.
Will you be doing more collaborations with musicians from other musicals traditions?
This autumn will see a major tour of Europe with the group Shakti. This is a group has existed in one form or another since 1973. I believe its long life is indicative of the depth of the music and its cultural richness.
Aside from Flamenco and Indian music, are there any other musical traditions that interest you?
The Qawwali musical traditions are very dear to me. This music is an aspect of the mystical side of Islam developed over the past 1000 years by the Sufis. Of course, my first musical experiences as a child were with western classical music, and this is still very dear to me also. Please don't forget though, that I am a jazz musician by love and also by discipline. I should say though, that I listen to underground bands. There are some extraordinary things happening in some of these bands; especially cross-cultural bands you can find in places like New York or London.
What guitar types and models are you playing now?
For the past year I've been playing an instrument made for me by Paul Reed Smith. Paul began making guitars for me about 18 years ago, but the one I play at this time is just magnificent in every way. I can send you a picture if you wish.
You were one of the pioneers in using double necked guitars. What ever happened to them?
Over the years I've given many guitars away to players who needed a good instrument. There was also a time when all the money from two tours was stolen and I found myself in deep debt. To keep my head above water I had to sell many of my special instruments such as the double-neck guitar, and other instruments I'd collected over the years also.
Mahavishnu Orchestra with the double-necked guitar
Do you keep most of your previous guitars? Is there an all-time favorite?
Personally I don't believe in 'collecting' guitars. Instruments are like people, if you don't play them they don't stay healthy. This is why I given away many over the years. And yes, sometimes I've regretted it! I actually have a number of favourites which is my small collection which I'm able to play. An old Gibson J 200, a '58 Les Paul Custom with Bigsby. A white '68 Strat, very similar to the one I gave Jeff Beck back in 1974 or 75. A blond Godin Freeway, and of course, my PRS custom guitar. I must include a nylon string custom acoustic made for me by Abraham Wechter which is featured on the 'Thieves & Poets' recording.
I read that you use a laptop computer in your live performances. What is the purpose and how does it interact with your guitars?
I only use the laptop with the Shakti group. This is because it allows me to bring in more orchestral textures through the midi interface. Don't forget, there's no keyboard or bass in this band. For the guitar itself, I use one of three tube pre-amps I have: either The Mesa-Boogie, the Seymour -Duncan or the Zen 2 Drive. They are all excellent in different ways.
I imagine you get asked this many times, but here it goes. Are there any plans for a Mahavishnu Orchestra reunion?
In the 1980's I tried many times to get the guys together, but struck out. It's probably unlikely now, but one never knows…
What music are you currently listening to?
Well, the best would be to see what's on my iPod. Classical: Bach. Mozart. Henri Dutilleux, Ravel and others of the impressionist period.
Jazz: Miles, Coltrane, Bill Evans, Gonzalo Rubalcaba, Gil Evans, Take 6, Brad Mehldau, Monk, and Mingus.
Qawwali of course, Nusrat Fateh Ali Khan is one of the great exponents, The Eagles, The Beatles, Muddy Waters, Jeff Beck, Jimi Hendrix, Sly and the Family Stone…
Where do you live now?
Monaco
What new projects are you working on?
Preparing for the UNESCO Jazz day this coming weekend. They asked me to choose who I wanted to play with and I'm looking forward to play with Branford Marsalis, George Duke, James Genus and Vinnie Colaiuta.
There'll be a piece also with Jean-Luc Ponty, Zakir Hussain and me. Should be really nice!
After that in June I'll be in the US for a 2 week tour of the East Coast. Should be good!!!
Thank you so much,
Thank you Angel!
Now Here This – 2013 North American Tour dates:
June 11 – Carolina Theater Durham, NC
June 13 – The Orange Peel Asheville, NC
June 14 – Bonnaroo Festival Manchester, TN
June 16 – The Howard DC Jazz Festival Washington, DC
June 17 – MusikFestCafe/River Jazz Festival Bethlehem, PA
June 18 – Blue Note Club (2 sets) New York, NY
June 19 – Blue Note Club (2 sets) New York, NY
June 20 – Blue Note Club (2 sets) New York, NY
June 22 – Berklee Performance Center Boston, MA
June 23 – Toronto Jazz Festival, Toronto, Canada
Buy Now Here This
Author:
Angel Romero
Angel Romero y Ruiz has been writing about world music music for many years. He founded the websites worldmusiccentral.org and musicasdelmundo.com. Angel produced several TV specials for Metropolis (TVE) and co-produced "Musica NA", a music show for Televisión Española (TVE) in Spain that featured an eclectic mix of world music, fusion, electronica, new age and contemporary classical music. Angel also produced and remastered world music albums, compilations and boxed sets for Alula Records, Ellipsis Arts, Music of the World.