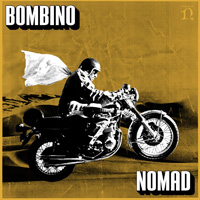 Bombino
Nomad (Nonesuch Records, 2013)
Hooking up with The Black Keys guitarist and singer Dan Auerbach at Auerbach's Easy Eye Sound studio in Nashville, Tennessee, Omara "Bombino" Moctar ups the ante on his Tuareg desert blues/rock sound on his debut recording Nomad for the Nonesuch Records label.
It was a chance viewing of a video of Bombino playing in Agadez, Niger, Bombino's homeland, celebrating peace that had finally come to Niger that caught Mr. Auerbach's eye and musical imagination. Mr. Auerbach recalls, "I thought it was really amazing. He was just rocking out, playing the guitar. Live is where Bombino shines. He's electrifying."
After the stunning 2011 release of Agadez on the Cumbancha label, vocalist and guitarist Bombino, along with band members Ibrahim Atchinguil Emoud, Kildjate Moussa Albade and Kawissan Mohamed, took a chance with producer Mr. Auerbach and his vision of bringing Bombino's sound to a whole new audience with the addition of some unexpected additions like pedal steel while still maintaining the vibrancy of the Bombino sound.
Mr. Auerbach explains, "I was honored he came to town and let me record him. My studio is built to record live band to make live music, and that's what Bombino and his band do best. I hoped it would work out great, and it did. I called up Max Weissenfeldt, the drummer from Berlin I'd worked with on the Dr. John (Locked Down), a local pedal steel player named Russ Pahl, and a keyboard player named Bobby Emmett. I had those people coming over, and they were playing instruments that Bombino had never actually used before, but he said it was cool to try them. I wanted a little bit more variation, and I wanted to try something that hadn't been done before, like combining their African instruments with pedal steel. And I though keyboard would also complement the Bombino sound."
The admiration between the two is mutual as Bombino comments, "It felt as though I was being bestowed with the title of an African minister of musical culture, being picked to work with Dan. It was such a big opportunity to reach a wider audience. Meeting Dan himself was also really good. Dan was very ice and approachable and easy to work with, even though he's such a well-known personality now. It was the first time I was able to work in a big studio like that, with proper gear and a great sound engineer. It was a really new experience, with all that sophistication in the studio. This was really, really big."
Savage guitar licks saturate Nomad's opening track "Amidinine" enough to have fans screaming for more. And it just gets better with the revolving rhythms of "Ahulakamine Hulan" and the soulfully worked "Imuhar." Ensuring that the music has purpose, Bombino reaches out with songs like "Azamane Tiliade" or "The Era of Young Girls" to caution young men to be attentive to young girls and "Her Tenere" or "In the Desert" about the problems of the Tuareg people. "Imidiwan" or "My Friends" has got a catchy, folksy feel, but it is "Tamiditine" or "My Darling" that is the real gem of the recording with its easy, breezy feel and a kick of pedal steel that transforms this into a clever delight.
Mr. Auerbach sums up the experience, "When those guys get in front of you and Bombino is playing electric guitar, you don't have to be in the desert. They will transform wherever they are. That's what's amazing about Bombino."
Bombino fans should keep a close eye on their North American tour dates that start in May and run through until July. Cities like Portland (Oregon), Aspen (Colorado), Ozark (Arkansas), Washington DC, Winnipeg (Manitoba), Louisville (Kentucky) and Newport (Rhode Island), among others will have an up close and personal listen into Bombino.
Buy Nomad
Author:
TJ Nelson
TJ Nelson is a regular CD reviewer and editor at World Music Central. She is also a fiction writer. Check out her latest book, Chasing Athena's Shadow.
Set in Pineboro, North Carolina, Chasing Athena's Shadow follows the adventures of Grace, an adult literacy teacher, as she seeks to solve a long forgotten family mystery. Her charmingly dysfunctional family is of little help in her quest. Along with her best friends, an attractive Mexican teacher and an amiable gay chef, Grace must find the one fading memory that holds the key to why Grace's great-grandmother, Athena, shot her husband on the courthouse steps in 1931.
Traversing the line between the Old South and New South, Grace will have to dig into the past to uncover Athena's true crime.