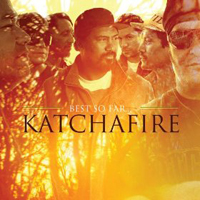 New Zealand's successful reggae band Katchafire is set to release its greatest hits collection Best So Far, on May 21, 2013 on VP Records.
From its modest beginnings in the late 1990s as a Bob Marley tribute band, Katchafire has become one of New Zealand's and the South Pacific's most popular groups today.
The band has carefully selected 16 of their must have tracks on their upcoming album Best So Far. The best of collection will feature Katchafire's breakthrough hits from their groundbreaking 2003 debut Revival – including "Get Away," "Who You With" and "Giddy Up" (2003's highest selling single in New Zealand) – all of which landed in the Top 10 of New Zealand's Top 40 Singles Chart.
Best So Far will also highlight the group's most cherished tunes from their remaining independently-released albums, like "Frisk Me Down" off of 2005's Slow Burning, "Working" and the title track from 2007's Say What You're Thinking as well as "Sweet As" and "Groove Again" off of 2010's On the Road Again.
Throughout April and May, the seven-piece collective is performing at major festivals as well as headlining intimate venues across the West Coast, Midwest and South in over 28 U.S. cities.
Buy Best So Far
Related stories:
New Zealand Reggae Band Katchafire Begins U.S. Tour
Author:
World Music Central News Department
World music news from the editors at World Music Central