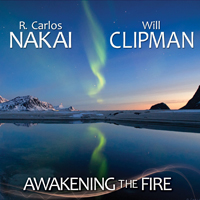 R. Carlos Nakai and Will Clipman
Awakening the Fire (Canyon Records, 2013)
Every once in a while I get one of those CDs that insists that I stop, be still and listen. Nothing could be truer of Native American flutist R. Carlos Nakai's and percussionist Will Clipman's latest offering on the Canyon Records label. These longtime collaborators and Grammy nominees are revered masters in the respective fields and each possess prodigious musical careers.
Mr. Nakai's previous recordings include Canyon Trilogy: Native American Flute Music, Earth Spirit, Talisman and In Beauty, We Return. Mr. Clipman's previous offerings include Pathfinder, Heart of the Wind with Robert Tree Cody and Passion, Fire & Grace with Gabriel Ayala. The pair have collaborated on recordings Dancing Into Silence and Feather, Stone & Light with William Eaton. The collaboration on Awakening the Fire is no less stunning. So stop, sit still and listen.
Brewing up a potent mix of Native American flute and an array of percussion, Mr. Nakai and Mr. Clipman set the listener on a musical journey that sounds as if it bubbled up from the earth. Opening "Oasis," Mr. Clipman provides a meaty rhythmic background that includes some palmas against the soaring flute of Mr. Nakai.
Moving through stunning tracks like "Kindling the Essence," the dazzling drumming of "Endless Journey" and "First Morning," listeners get a surprise by the quirky "Portal" that almost sounds like an animal lumbering across the landscape.
Stacking one beautifully earthy track on the next, listeners should pay special attention to the lovely "Standing Stones" and the water infused "The Fountain."
With Mr. Nakai providing circling Native American flute lines that astonish and vocals and Mr. Clipman providing a whole host of percussion that includes frame drum, rattles, cajon, berimbau, Tibetan bowls, Balinese anklun and bongos, Awakening the Fire stirs the very air. Awakening the Fire halts you in your tracks, insisting that you listen and breathe in this glorious music.
Author:
TJ Nelson
TJ Nelson is a regular CD reviewer and editor at World Music Central. She is also a fiction writer. Check out her latest book, Chasing Athena's Shadow.
Set in Pineboro, North Carolina, Chasing Athena's Shadow follows the adventures of Grace, an adult literacy teacher, as she seeks to solve a long forgotten family mystery. Her charmingly dysfunctional family is of little help in her quest. Along with her best friends, an attractive Mexican teacher and an amiable gay chef, Grace must find the one fading memory that holds the key to why Grace's great-grandmother, Athena, shot her husband on the courthouse steps in 1931.
Traversing the line between the Old South and New South, Grace will have to dig into the past to uncover Athena's true crime.