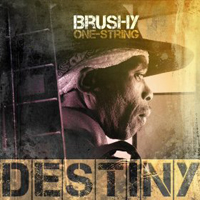 Brushy One-String
Destiny (Rise Up Music, 2013)
Anyone who enjoyed the street musicians in the Playing for Change series will adore Brushy One-String (Andrew Chin) from Jamaica. His opener, "Boom Bam Deng", off his CD, "Destiny", one of the most appropriate titles to come along in years, if not decades, uplifts with its lilting beat played on a one-string guitar.
According to the press notes, "When filmmaker Luciano Blotta walked out of a rural Jamaican recording studio, way off the beaten path of tourists and music hounds, he saw something wildly unusual: a man with an instrument. Even more surprising, the instrument in question– a battered but resonant acoustic guitar–had only one string." Of course, on the recording, a minimalist ensemble on dobro guitar, harmonica, Spanish guitar, thumb piano, cajon and percussion accompany Brushy and his one-string guitar. However, prior to this recording, Brushy kept time on his guitar–pounding on the wood like a drum–a one-man band.
A man with an unusual destiny with enough twists and turns to place him on a musical hero's path, Brushy writes infectious songs that blend blues, reggae, and African Diaspora (think griot with the morality lessons present in Brushy's songs). They Are Going Down reminds me of that pop song Electric Avenue by Eddy Grant which hit the airwaves decades ago when I was in college. Listeners won't walk away without knowing Brushy's socio-political opinions, but at least the singer delivers these lessons in gruff baritone (from the musical pulpit) with foot-tapping rhythms. He delivers the big sermon on Life is For Every Man.
Tight musical arrangements along with Brushy's songwriting talent combine in such a way that only the coldest hearts wouldn't feel moved by this CD. It won't take a miracle to land this CD at the top of the world music charts, but like with any authentic musician, destiny played a role in bringing this music to our souls. This radio-friendly musician is poised for the same international success that Playing for Change musicians experienced. You gotta love the guy with his one-string guitar who grooves without any drum machines or DJ remixes.
Sample Brushy One-String on YouTube: https://www.youtube.com/watch?v=VJFM6y2zIn4
Buy the MP3s Destiny
Author:
PatriciaHerlevi
Patricia Herlevi is a former music journalist turned music researcher. She is especially interested in raising music consciousness. She is looking for an agent and publisher for her book Whole Music (Soul Food for the Mind Body Spirit). She founded and hosts the blog
The Whole Music Experience and has contributed to World Music Central since 2003.