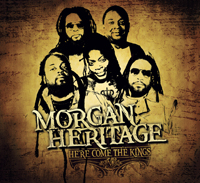 Morgan Heritage, one of the leading acts on the live reggae circuit returns with Here Come The Kings, scheduled for release on June 11th on VP Records. The group features Peetah Morgan (vocals), Una Morgan (keyboard/vocals), Roy "Gramps" Morgan (keyboard/vocals), Nakhamyah "Lukes" Morgan (rhythm guitar) and Memmalatel "Mr. Mojo" Morgan (percussion/vocals).
The album will "stimulate the minds of the people and let them know what we've created, it's real," says the group's lead vocalist Peetah Morgan.
Here Come The Kings includes collaborations with producers like Lamar Brown (Notice Productions), Shane C. Brown (Juke Boxx Productions) and Jason "J-Vibe" Farmer. This has led the band to explore new sounds that fuse roots, R&B, and a hint of dancehall.
"Roots Reggae is alive and well outside of the island of Jamaica," Gramps ardently declares. "It's not about changing the message, but delivering the message to a new generation."
"Shabba, Shaggy, these people captivated foreign markets because they were different, but still 100% Jamaican. Reggae artists need to realize that what we do is precious. We must value what we have because the public wants us for who we are," explains Peetah.
"We're a lot more confident and mature than what you heard 5 years ago," asserts Peetah. "The musicality of this project is attractive to the young generation while maintaining the uplifting content that we're known for," he adds.
View behind the scenes footage of "Perfect Love Song" anticipated video – shot in Miami and directed by Spencer Antle:
Preorder the album in North America: Here Come The Kings
Preorder the album in Europe: Here Come The Kings
Author:
World Music Central News Department
World music news from the editors at World Music Central