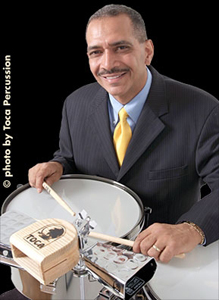 Latin Legacy Series: From Mambo to Salsa!
In the 1950's there was the dance craze of mambo, cha cha cha and rumba, and Machito's Orchestra was the first orchestra to play Latin Jazz. The band presented the famed Tito Puente, who was the first to play the timbales with a cymbal. He got out in front of the audience and soloed on timbales with the Machito Orchestra that featured the celebrated Tito Rodriguez Sr. singer, dancer and timbales drummer.
The mambo craze brought many folks out of their homes to learn the new dances. Jews, Latinos, Afro-Americans, all wanted to learn and have fun after a hard week's work. Some even took private lessons to be part of the fun and fabulous craze!
As José Conzo states in his book, Mambo Diablo, My Journey with Tito Puente, Tito would fly from New York to Cuba to see what was happening in the music industry in Cuba, and then fly back! Dámaso Pérez Prado, on the other hand, had already become famous in Mexico with the mambo and many thought that he was the creator of the mambo.
Prado created a different syncopation of the mambo that was very popular, and is still popular to this day, with the Mexican people! Machito was the first and set the standards for Latin Jazz, mambo, and cha cha cha. He played at the famed Palladium Ballroom.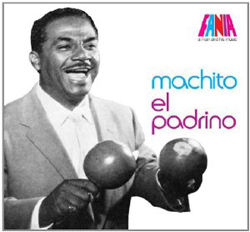 Playing with Machito was his son, Mario Grillo, whom I am interviewing. I admire him greatly for his work playing timbales, congas and bongo drums with his father "Machito".
When I was young, I used to be a DJ for a college radio station and received DJ copies of LP's from Fantasy Records, courtesy of Cal Tjader. Tito Puente had Tico Records and sent me DJ copies from Tico, Alegre and Roulette records.
The first time I heard the term salsa was from a New York radio publicist from Tico, Yolanda Monge, who sent a newsletter from Tico Records out to the DJs. It was called "Salsa Dice" (salsa says), coining a new term for mambo music, which is still in existence today!
Salsa is a new term for mambo, created in the 1970s. When Tito Puente was asked about salsa music, he would say it was just "sauce", appearing not to want to acknowledge the new term, since it was mambo in the newest form.
All in all, if Machito, the famed maraca player, hadn't arrived from Cuba to New York, all of this music history would have not happened. As a young timbales drummer and DJ, I tried to expose my friends and young musician friends to salsa music, and we would try to find anything we could about Latin Music from New York City, and even had friends bring us a copy of the Latin N.Y. Magazine, with stories about the artists.
Tico Records sent me LPs of Menique, Yayo El Indio, Eddie Palmieri, Charlie Palmieri and even tickets to the famous Tico-Alegre Concert in Carnegie Hall in New York City that was recorded and has become part of Latin music history.
These articles are meant to share the knowledge of mambo to salsa with the original artists that were there playing the music and to assist young musicians that are on a musical path, teaching you things that you cannot learn in books from the legends themselves and to assist the newcomers to Latin music.
The interviews are for the lovers of mambo and salsa and I hope you enjoy this interview and the upcoming great interviews and would appreciate the feedback from your community. The artists being interviewed would also enjoy it as well.
Mario, when you were young, and your father was already a musical legend, what thoughts went through your mind about him, and what attracted you to Latin music?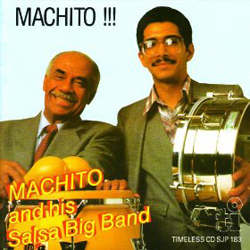 The first thing is, "we did not know he was a living legend'', he never told us. He was just Daddy. My attraction was the tremendous amount of joy the music gave him. That was my connection, pure joy.
Where you born and raised in New York? Tell us a little about your childhood?
I was born in El Barrio, 238 East 111th. St. (between Second and Third Avenue). We then moved to The Bronx when I was 10 years old. I have been in The Bronx all my life. I am blessed to have friends for 50 years plus, guys I grew up with, that's very nice.
What made you realize that you wanted an instrument to play music?
I knew from as soon as I could breathe, that music would be my life.

What made you decide to play the instruments that you play, the timbales and bongo?
Timbales, conga and bongo are my first love and always will be.

And what was your ultimate goal?
My goals in order: 1) Play in my Dad's band; 2) Record and travel the world; 3) Become director; 4) Be a Grammy award winner. All these goals have been accomplished.
Where did you perform with your father, Machito?
I played with my Dad worldwide: Norway, Sweden, Denmark, Finland, England, France, Germany (East And West), Holland, Belgium, Switzerland, Spain, Portugal, Italy, Japan, Africa, The Philippines, Venezuela, Panama, Colombia, Peru…There are a bunch more, just cannot remember them all.
What went through your mind, during those gigs and music sessions?
My greatest joy is having returned to all these places 30 years after my Dad has passed and the reception has been incredible.
What did your father mean to you as a father, and what did your father mean to you as a musician. And what did he say to you as a young musician, about the instruments that you decided to play and how you were playing them?
My Dad was the alpha and omega of our lives. He was my Dad, roommate, friend, mentor, partner. He was everything. My Mom, Torres Grillo, made me a musician. She made me practice every single day for an hour. Without her, I would be ''nowhere.''
Name your favorite timbales players, conga players, bongo player, singer or personal favorite musicians based on your likes and the style they play?
There are too many, but, here goes…..
Timbales: Tito Puente, Uba Nieto, Willie Bobo, Kako, Joe Cotto, Rafael Cortijo, Willie Rosario, Mike Collazo, Orestes Vilato, Nicky Marrero, Ralph Irizarry. Sorry if I missed anybody.
Congas: Patato, Armando Peraza, Ray Barreto, Mongo, Tata Guines, Los Papines, Cándido, Eddie Montalvo, Frank Valdés.
Bongos: José Mangual Sr., José Mangual Jr., Luis Mangual, El Chinito Bongocero, Ray Romero, Chuckie López, Henry Rosa, Dandy Rodríguez. Too many…
What can you tell us about your sister, the famed singer Paula that sang with your father. How is she doing?

Paula has spent over 20 years with The New York Board of Education. She still has a lovely voice.
Whom have you performed with?
I have accompanied all of the premier artists of our time in the world of Latin, Jazz and everything under the sun…. Also The Village People, The Ritchie Family, Patrick Juvet, Harold Melvin and The Blue Notes. And more than a thousand over-dubs, and radio and TV jingles.

What can you tell us about Mario Grill now as a person and as a performer?
Mario Grillo is totally happy with life, I have an awesome wife, Antoinetta, who has been a Godsend. We have been married over thirty years,. I will also be a Grandad in July 2013. I love to play. I have always felt I play my best on the road.
Can you tell us about your future and the future of your father's legacy?
I just finished a winter tour with ''The Dizzy Gillespie Afro-Cuban Experience.'' We toured Portugal, France, England, Italy, Latvia, Bulgaria, and Germany. We covered about a dozen cities. It's great to play the music of Dizzy and Machito. We are now in the studio and hope to release a CD this year. We were on the road for about a month
I am now in the planning stages for the 75th Anniversary of Machito Orchestra in 2014.
I would hope to revisit all the places we have been in our long history.
Thank you Mario for your great time for this interview and inspiration
Thank you!
Mario Grillo's websites:
http://www.machitoorchestranyc.com

https://www.facebook.com/machito1956?fref=ts
Author:
Les Moncada
Les Moncada is a Latin Jazz orchestra leader and conguero for over 40 years. He was born in Oakland, California and currently resides in Sacramento, California.
Les Moncada is a student of conga and batá master Francisco Aguabella, a friend of the late promoter Bill Graham, vibraphonist Cal Tjader, Latin Jazz band leader Pete Escovedo, conguero Mongo Santamaria and many, many more.
He has been writing for many years for World Music Central.
Les has several Facebook sites: Timbales and Congas Bongo Bata & bells; Conguero, Professional Conguero & their Instrument; Bongocero, Professional Bongocero their Instrument; Alambres Dulces, Tres, Cuatro & Laud