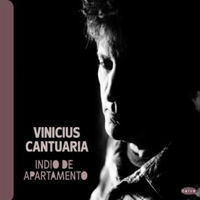 Vinicius Cantuaria
Indio de Apartamento (Naïve, 2012)
Many world music fans and those enamored with the Brazilian bossa nova will recognize Vinicius Cantuaria by such recordings as Cymbals, Samba Carioca, Vinicius and Lagrimas Mexicanas with Bill Frisell. The Brazilian composer, guitarist and percussionist has wooed listeners and cut a swath through the sultry bossa nova soundscape in a style that sometimes hangs onto tradition by just its fingernails and often slips loose of those traditions to tread an edgier musical landscape. That tradition holds true with Mr. Cantuaria's latest offering Indio de Apartamento out now on the Naïve label.
Indio de Apartamento lures the listener with a subtle elegance, clearly apparent from opening track "Humanos" with its quiet vocals, poignant guitar lines and delicate percussion. Dipping into more clearly defined Brazilian sound on "Moca Feia," Mr. Cantuaria punctuates the easy graceful breeziness with some jazzy piano lines provided by Ryuichi Sakomoto. Unwilling to keep allow the listener to get lazy, Mr. Cantuaria prods the listener with tracks like "Purus" and "Indio de Apartmento" that somehow defy genre, but are no less evocative with dips into electronica against tightly worked percussion and Mr. Cantuaria's guitar and vocals.
"Acorda" with pianist Mr. Sakomoto, "Um Dia" and "Quem Sou Eu" with pianist Nora Jones are pure seduction, whereas tracks like "This Time," "Chove La Flora" and "Pen Na Estrada" take on a slightly different flavor as Mr. Cantuaria is joined by guitarist Bill Frisell.
Possessed by a Brazilian slant, Indio de Apartamento is shaded by Mr. Cantuaria's signature guitar playing, cleanly worked percussion and velvety vocals to create an intimate sound that is hard to resist. Sultry and seductive, Indio de Apartamento dares to traverse the line between bossa nova lushness and an edgy, jazzy otherworld. The result is vibrant and alluring.
Buy the MP3s Indio de Apartamento
Buy CD: Indio de Apartamento
Author:
TJ Nelson
TJ Nelson is a regular CD reviewer and editor at World Music Central. She is also a fiction writer. Check out her latest book, Chasing Athena's Shadow.
Set in Pineboro, North Carolina, Chasing Athena's Shadow follows the adventures of Grace, an adult literacy teacher, as she seeks to solve a long forgotten family mystery. Her charmingly dysfunctional family is of little help in her quest. Along with her best friends, an attractive Mexican teacher and an amiable gay chef, Grace must find the one fading memory that holds the key to why Grace's great-grandmother, Athena, shot her husband on the courthouse steps in 1931.
Traversing the line between the Old South and New South, Grace will have to dig into the past to uncover Athena's true crime.