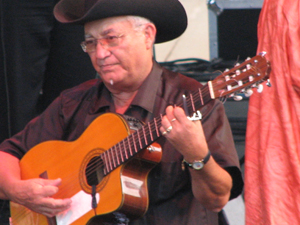 Famed guitarist and songwriter Eliades Ochoa will recreate the songs he performed 40 years ago with the Cuarteto Patria in a new album currently being recorded in Santiago de Cuba.
Even though the CD new album began to take shape in Havana, Ochoa will complete it at Siboney Studios in the Cuban eastern province of Santiago de Cuba.
The album will include songs such as ¨El Paralítico¨ and ¨Besos Discretos¨ by Miguel Matamoros; ¨Estoy hecho tierra¨ by Ñico Saquito; ¨La Esperanza¨ by José Pepe Sánchez; and ¨Pregón Santiaguero¨ by Lino Reginfo, a local performer.
Ochoa especially highlighted the song ¨Si estas Dormida¨that used to bring to tears the late Francisco Repilado (Compay Segundo).
Eliades Ochoa won the Latin Grammy last year with the album "Un bolero para ti". He is the composer of well-known songs such as ¨Pintate los labios Maria¨ and ¨Un bolero para ti.¨ He recently performed at the Pepe Sanchez International Trova Festival in Santiago de Cuba, the cradle of this musical genre in Cuba.
Author:
World Music Central News Department
World music news from the editors at World Music Central