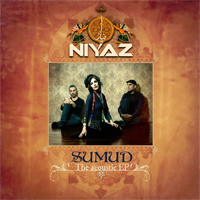 Middle Eastern-inspired world music band Niyaz has released a six song acoustic EP that features three acoustic performances of songs from the band's 2012 electronic album Sumud, as well as three brand new songs.
Although Niyaz is dedicated to creating music which is a true hybrid of electronic and acoustic music, with roots in ancient cultures as well as the modern world, the acoustic performances and recordings play a crucial role in the process of reaching this goal. The emphasis on song structure and performance is the driving force behind the band's music, which is why Niyaz have remained committed to presenting audiences with acoustic versions of songs from their albums.
The three new songs featured on the acoustic release are original songs composed by Niyaz. The instrumental track "Sahar", is a piece written for santoor (Persian Hammered Dulcimer) and the Turkish jumbush. It features a fiery duet performance between Azam Ali and Loga Ramin Torkian on these instruments.
"Naseem" features a duet between Azam's voice and Niyaz percussionist and flute player Habib Meftah Boucheri on his self-made flute playing a haunting melody. "Nalona" is an ambient journey through sonic landscapes created by Loga on guitar viol and Azam singing in a language of her own design.
Buy Sumud Acoustic EP MP3s
Author:
World Music Central News Department
World music news from the editors at World Music Central