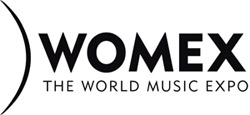 World music expo WOMEX announced today the list of European cities that have applied to host the 2015-17 editions of the international conference.
The WOMEX 15-17 Official Host City Candidates are:
– Barcelona (Spain)
– Budapest (Hungary)
– Cardiff (UK)
– Dublin (Ireland)
– Gothenburg (Sweden)
– Poznan (Poland)
– Thessaloniki (Greece)
– Vienna (Austria)
– Warsaw (Poland)
In total WOMEX received bids from over twenty European cities for the 2015-2017 editions. "As WOMEX is such a multifaceted international event, including elements such as a Showcase Festival, Trade Fair, Conference and Film Screenings, many different aspects had to be taken into consideration when compiling the shortlist," said Daniela Teuber, WOMEX Director of Production.
The next stage of the process is site visits to the shortlisted cities.
"The proposals for WOMEX 15-17 have shown an interesting new trend," added Daniela Teuber, "We are seeing previous WOMEX hosts reapplying – a mark of the event's sustainability."
Last year's WOMEX host city, Thessaloniki, is back in the game. The Mayor of Thessaloniki, Yiannis Boutaris, declared: "We are delighted that Thessaloniki has been shortlisted among the host city proposals for WOMEX 15-17. The organization of WOMEX 12 was a great success and we look forward to hosting this very important event again in our city. We also had the chance to inaugurate Club Globalkan, an important addition to the program focusing on Balkan music. We saw a great amount of participants from the countries of Southeastern Europe and the Eastern Mediterranean, a very encouraging message for the organization, the music industry, and our city."
Meanwhile, the upcoming hosts of WOMEX 13 are already keen to see the event return to Wales in 2015-2017. Eluned Haf, Director of Cerdd Cymru: Music Wales, a partnership between Welsh Music Foundation and Wales Arts International / Arts Council of Wales, declared: "We are looking forward enormously to welcoming WOMEX and the world to Cardiff, the capital of Wales, to discover the land of song in October 2013. WOMEX is an incredible event which will come alive in Cardiff. Delegates will enjoy the city's charms – from its green coastal location to the wealth of music and culture on show at the Wales Millenium Centre as well as the proximity of the venues and hotels. Wales is a proud and talented musical nation which is just being explored by the world. WOMEX is already proving to be a catalyst for the music sector here and will be a tipping point for our musicians to break into international markets. Should WOMEX come back in years to come, it would enhance the legacy for musicians and audiences in the UK and would cement Wales' reputation as a music nation and a great destination for visitors and musicians alike."
The next edition of WOMEX, the most important international professional market for world music, will be taking place in Cardiff, Wales, UK, from Wednesday, 23, to Sunday, 27 October 2013. In 2014 WOMEX will be moving to Santiago de Compostela in Galicia, Spain.
The 18th edition of WOMEX in Thessaloniki, Greece, in October 2012 saw over 2,200 delegates and 351 showcase artists from more than 90 countries, 600 exhibitors, a full conference program and a showcase festival presenting 61 acts on 8 stages.
Since its first edition in 1994 WOMEX has been traveling all across Europe from Berlin (1994), via Brussels (1995), Marseille (1997), Stockholm (1998), Berlin (1999 + 2000), Rotterdam (2001), Essen (2002 + 2004), Newcastle (2005), Sevilla (2003 + 2006-2008), Copenhagen (2009-2011) to Thessalonki (2012).
Author:
World Music Central News Department
World music news from the editors at World Music Central