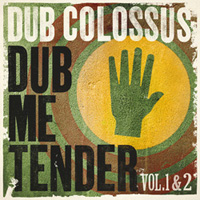 Dub Colossus
Dub Me Tender Vol. 1 & 2 (Real World Records, 2013)
Tired of staring out the window into the grimy edges of winter waiting forward to spring? Feeling a little low, depressed, perhaps a little deprived? Well, babies, you need some Dub yummies to perk you up, to put some color back into your cheeks and to work out that creaky feeling out of your hips. Real World Records has got just the fix for you with their March 26th release of Dub Colossus's Dub Me Tender Vol. 1 & 2. Okay, it probably won't whiten your smile or put the glossy shine back in your dog's coat, but this slick, savvy collection by dub master Nick "Dubula" Page of TransGlobal Underground and Temple of Sound fame will set your moods to right. Deliciously moody and savagely hip, Dub Me Tender will knock the ennui right out of your head.
Cooking up a cauldron of Ethiopian rhythms, Ethiojazz and dub reggae, Dub Colossus boasts the usual suspects of guitarist, bassist, percussionist and electronic programmer Nick Page, saxophonist Feleke Hailu, pianist, organist and vibraphonist Samuel Yirga, massinko player and vocalist Teremage Woretaw and vocalists Sintayehu "Mimi" Zenebe and Tsedenia Gebremarkos. Adding some spice to the mix is reggae singer Mykaell Riley of Steel Pulse, drummer Nick Van Gelder of Jamiroquai, the Horns of Negus, bassist Dr Das of Asian Dub Foundation and double bassist Bernard O'Neill of Syriana.
What I find so evocative about this music is the way it demands a kind of surrender. Thick, ropey bass and drum rhythms, flashes of neatly worked brass, ear-catching percussion and otherworldly organ lines and electronics demand that the listen surrender to the musician's intention and ride the musical journey. Somewhere along the line you, as the listener, realize you are the cobra and not the pungi player – a welcomed reminder that letting the mind go and following the music is more than okay. Dub Me Tender is a music lover's well-earned escape.
There are plenty of goodies on Dub Me Tender, so many that it's difficult to pick out favorites. "Dub in a time of Cholera," title track "Dub Me Tender" and "I'm in Dub with a German Film Star" are just a few. This recording, like other Dub Colossus recordings, offers the listener a whole smorgasbord of sound and still the listeners is able to pick out individual performances and instruments which makes this particular kind of music so alluring. Neil Waters takes a turn at the flugelhorn on "Falling in Dub Again" with some dishy piano lines from pianist Samuel Yirga and "I Dub the Sound of Breaking Glass" turns from cleverly quirky to darkly dreamy with Joanna Popwicz on the vibraphone. Other gems include "Stop! In the Name of Dub," "What Time is Dub?" and "It's Friday, I'm in Dub."
Okay, I'll go straight to the obvious and say it. Dub Me Tender is Dubalicious.
Buy Dub Me Tender Vol. 1 & 2 in North America
Buy Dub Me Tender Vol. 1 & 2 in Europe
Author:
TJ Nelson
TJ Nelson is a regular CD reviewer and editor at World Music Central. She is also a fiction writer. Check out her latest book, Chasing Athena's Shadow.
Set in Pineboro, North Carolina, Chasing Athena's Shadow follows the adventures of Grace, an adult literacy teacher, as she seeks to solve a long forgotten family mystery. Her charmingly dysfunctional family is of little help in her quest. Along with her best friends, an attractive Mexican teacher and an amiable gay chef, Grace must find the one fading memory that holds the key to why Grace's great-grandmother, Athena, shot her husband on the courthouse steps in 1931.
Traversing the line between the Old South and New South, Grace will have to dig into the past to uncover Athena's true crime.