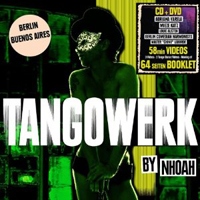 Tangowerk is the title of the debut album by Berlin producer Nhoah. Although he has had success with rock productions in the past, this time he ventures into a cross-cultural and musical hybridization project that brings together the beats of Berlin electronic music and Buenos Aires tango.
In addition to music, Tangowerk brings burlesque theater and dance into the mix with costumed artists and video animations. To carry out the project, Nhoah recruited friends and artists from the Berlin music and art scene. In Buenos Aires, they met with well-known Argentinian musicians, recorded studio sessions, and visited tango and cabaret clubs.
Although the music on Tangowerk is designed to stand on its own, the audiovisual concept is better grasped by watching the DVD included in the package.
Videos:
'Ob Ich Dir Treu Sein Kann' ('If I Can Be True To You') featuring Berlin Comedian Harmonists
Buy the Tangowerk CD+DVD
Buy MP3s
Author:
World Music Central News Department
World music news from the editors at World Music Central