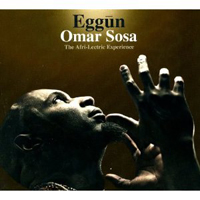 Omar Sosa
Eggun – Afro-Lectric Experience (Otá Records/World Village, 2013)
I have already established in previous world music reviews (and now a jazz CD), that I'm not a fan of electronic music. However, I wanted to check out Omar Sosa's Eggun because of the mix of Miles Davis influences combined with Afro-Latin rhythms and sensibilities. Even without the drum loops, sound effects, and electronics grafted onto the songs, the musicians perform "modern" jazz. A nostalgic gaze shows up in the Davis-like melodies played on horns and even a 1970s groovy funk quality that recalls Davis' Bitches Brew.
The opening tracks, 'Alejet' and 'El Alba' recall Davis' Kind of Blue and Sketches of Spain period with a muted trumpet taking the lead, but on Eggun, framed by Afro-Latin percussion and piano. The slower tempo adds a touch of romance to the air so it was a good idea to release this album in February, a sultry month in the middle of winter. I think these two tracks might even be my favorites on the CD.
I'm guessing that 'Alternativo Sketches' is a clever send-up to Davis' Sketches of Spain and 'So All Freddie' a send-up for Kind of Blue. And the late trumpeter Davis would no doubt have relished the effect, since he himself was a jazz pioneer and not one to shy away from experimentation. 'So All Freddie' opens with Malian blues played on traditional instruments (sounds like an n'goni with calabashes sample) followed by punchy horns with bass and drum groove–salsa meets the Griot tradition. But this is too much sound vibration for my ears to absorb.
While I would think a song with the title 'Rumba Connection' would move at a quick tempo, this song starts out slow and picks up to only medium tempo with light Afro-Latin percussion acting as a backdrop again for Joo Kraus' trumpet and Leandro Saint-Hill and Peter Apfelbaum's saxophones. I don't see anyone dancing rumba or salsa to this tune.
The recording closes with 'Calling Eggun' (a Yoruban god) which starts out with tentative piano that reminds me of someone sticking their toes into an ocean to check out the temperature. Davis-like trumpet follows with a gruff voice punctuating the carefully designed soundscape. The ethereal realm meets earthy and grounding Africa. If the 11 musicians that comprised the band on Eggun had the intent of conjuring the spirit of Miles Davis here, they succeeded.
Buy Eggun – Afro-Lectric Experience in North America
Buy Eggun – Afro-Lectric Experience in Europe
Author:
PatriciaHerlevi
Patricia Herlevi is a former music journalist turned music researcher. She is especially interested in raising music consciousness. She is looking for an agent and publisher for her book Whole Music (Soul Food for the Mind Body Spirit). She founded and hosts the blog
The Whole Music Experience and has contributed to World Music Central since 2003.