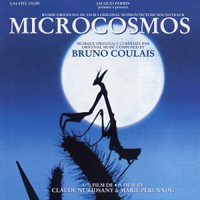 Bruno Coulais
Microcosmos (Varese Vintage Records, 2013)
Let me start off by saying the original motion picture soundtrack Microcosmos is a classical recording. Composed and orchestrated by Bruno Coulais, of Oceans, Winged Migration and Coraline soundtracks fame, this clever little recording would probably be something I would pass over if not for its simple, ingenious way of dramatizing nature.
As a backdrop to the nature documentary by Claude Nuridsany and Marie Perennou with Jacques Perrin and Kristin Scott Thomas about the lives of insects, Microcosmos is a quirky, fantastical musical exploration into that which we humans rarely notice. This would be a wonderful recording for parents with children, teachers or those who just want to let their imaginations run away with them. I could see this being a valuable tool in teaching children or young composers about creating a mood or a drama within music.
And, indeed there is plenty of drama with tracks like "The Bee and the Flowers," "The Ladybird" and "The Sacred Beetle and the Pheasant." Tracks like "Thunderstorm" and "The Fight of the Stag-Beetles" capture and ensnare the listener. With a string quartet, piano, flute, clarinet, a couple of percussionists, the lovely Mezzo-soprano Mari Kobayashi and the children's vocals by Hugo and Louis Coulais, Bruno Coulais has laid down a musical journey that is almost as fun to follow if you don't read the track listing before listening to the music as it is to conjure up the drama in your head.
I have special affection for "The Ladybird," the glorious charm of Ms. Kobayashi on "Snail Love," the eerie atmosphere of "Under a Veil of Water" and the end of the journey with "Dream's End." There's plenty of natural sound to pique interest and lend a little context to the music.
It's indeed well worth it to give Microcosmos a listen. And, it won't make you itchy.
Buy Microcosmos in North America
Buy Microcosmos in Europe
Author:
TJ Nelson
TJ Nelson is a regular CD reviewer and editor at World Music Central. She is also a fiction writer. Check out her latest book, Chasing Athena's Shadow.
Set in Pineboro, North Carolina, Chasing Athena's Shadow follows the adventures of Grace, an adult literacy teacher, as she seeks to solve a long forgotten family mystery. Her charmingly dysfunctional family is of little help in her quest. Along with her best friends, an attractive Mexican teacher and an amiable gay chef, Grace must find the one fading memory that holds the key to why Grace's great-grandmother, Athena, shot her husband on the courthouse steps in 1931.
Traversing the line between the Old South and New South, Grace will have to dig into the past to uncover Athena's true crime.