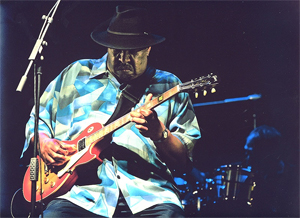 The blues guitarist and singer known as Magic Slim died Thursday, February 21, 2013 at a Philadelphia, Pennsylvania hospital. The Mississippi blues man had been in failing health on tour weeks before his death and finally succumbed after surgery for a bleeding ulcer. He was 75.
Born Morris Holt on August 7, 1937 in Grenada, Mississippi to sharecropper parents, Magic Slim grew up surrounded by the blues. Initially, Magic Slim was so broke he fashioned a broom along with baling wire to create music. He would later go on to play the piano, but a cotton gin accident and the loss of a finger had him switching to guitar.
In 1955, he followed other older blues musicians like Muddy Waters and Howling Wolf to Chicago but returned home after finding competition fierce. It would take another five years before he again made his way back to Chicago. This time he would prove to be more successful. He recorded his first single "Scufflin'" in 1966 and settled into the South Side club Florence's Lounge as Magic Slim & the Teardrops.
He would go on to record such albums as Born Under a Bad Sign, Highway Is My Home, Raw Magic, Blues Behind Closed Doors, Snakebite, Tin Pan Alley, That Ain't Right, Midnight Blues and his final 2012 recording Bad Boy. Magic Slim & the Teardrops won the W.C. Handy Award as Blues Band of the Year six times throughout his career.
Magic Slim is survived by his wife Ann, four sons and one daughter.
Author:
TJ Nelson
TJ Nelson is a regular CD reviewer and editor at World Music Central. She is also a fiction writer. Check out her latest book, Chasing Athena's Shadow.
Set in Pineboro, North Carolina, Chasing Athena's Shadow follows the adventures of Grace, an adult literacy teacher, as she seeks to solve a long forgotten family mystery. Her charmingly dysfunctional family is of little help in her quest. Along with her best friends, an attractive Mexican teacher and an amiable gay chef, Grace must find the one fading memory that holds the key to why Grace's great-grandmother, Athena, shot her husband on the courthouse steps in 1931.
Traversing the line between the Old South and New South, Grace will have to dig into the past to uncover Athena's true crime.