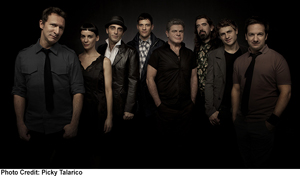 South American band Bajofondo announced they will tour throughout North America in March and April in support of their forthcoming album Presente, scheduled for release March 5th on Sony Masterworks.
Bajofondo creates the contemporary sound of the Rio de La Plata, the river that separates and unites Argentina and Uruguay. Their unique sound uses the region's rich musical legacy of tango, folklore, and milonga as a foundation for their genre-defying compositions.
On stage, Bajofondo's eight members use traditional instruments like bandoneón alongside live video mixing, samples, and scratches. Bajofondo recently drew hundreds of thousands at an outdoor performance in Buenos Aires.
The band has just released the video for Presente's lead single "Pide Piso" directed by the band founder and producer Gustavo Santaolalla. The animated video imagines the track as a 1980s 8-bit video game with romance on the streets of Latin America at its heart.
Watch the video here:
Gustavo Santaolalla, winner of a Golden Globe, 2 Oscars, 2 Grammys, and 12 Latin Grammys, describes the new album as "a trip that takes you from the most magical to the most epic urban moments."
North American Tour
March 18 Los Angeles, CA at Henry Fonda Theaters
March 19 San Francisco, CA at Bimbos
March 21 Seattle, WA at Neumos
March 24 Minneapolis, MN at Cedar Cultural center
March 25 Chicago , IL at Old Town Scool of Folk
March 27 Boston, MA at Paradise
March 28 New York, NY at Stage48
April 2 Washington DC at 9:30 Club
April 4 San Juan, Puerto Rico at Cuartel De Ballaja
Preorder Presente
Author:
World Music Central News Department
World music news from the editors at World Music Central