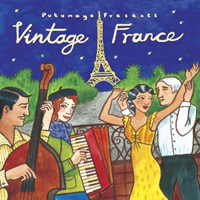 Various Artists
Vintage France (Putumayo World Music, 2013)
Break out the wine, Brie and baguettes because Putumayo World Music is set to release on February 26, 2013 Vintage France. Chocked full of dishy tracks, Vintage France pays homage to the enduring lushness of the French chanson.
Putumayo found and CEO Dan Storper explains the allure of the chanson this way, "French artists have created this beautiful, melodic music that has stood the test of time."
Vintage France is by no means a roundup of the usual suspects like Edith Piaf or Maurice Chevalier. Instead, Vintage France pools a collection of artists like Juliette Greco, Francesca Blanchard, Martijn Luttmer and Raphel Bas to delight and dazzle chanson fans.
"Originally, we were going to focus on vintage recordings of popular French songs," Mr. Storper elaborates. "But there were many challenges to using old recordings and it just wasn't clicking. Then, we began to discover some wonderful, contemporary versions. We even asked Francesca Blanchard to record a cover of one of the most popular French songs of all time."
"Perhaps the greatest surprise was discovering Norbert Slama, a blind octogenarian accordion player who performed with Josephine Baker and Edith Piaf, in my backyard in New Orleans. His performances in a small, vintage café in the Marigny transported me to a bygone era."
Vintage France provides potent little charmers like Juliette Greco's "La Valse Brune," Patrick Nugier's "Jardin d'Hiver and Madeleine Peyroux's "La Javanaise." Some real standout tracks include Martijn Luttmer's harmonica saturated "Les Parapluies de Cherbourg," the deeply satisfying "Les Baleines Blues" by Daniel Roure and the delicately wrought "Sous le Ciel de Paris" by Francesca Blanchard and the delightful "Nany" by Norbert Slama Trio. There's also guitarist Raphael Bas's "Confessin'" and the fabulously wonderful "Cloviswing" by Jean-Claude Laudat to round out your Vintage France experience.
Buy Vintage France
Author:
TJ Nelson
TJ Nelson is a regular CD reviewer and editor at World Music Central. She is also a fiction writer. Check out her latest book, Chasing Athena's Shadow.
Set in Pineboro, North Carolina, Chasing Athena's Shadow follows the adventures of Grace, an adult literacy teacher, as she seeks to solve a long forgotten family mystery. Her charmingly dysfunctional family is of little help in her quest. Along with her best friends, an attractive Mexican teacher and an amiable gay chef, Grace must find the one fading memory that holds the key to why Grace's great-grandmother, Athena, shot her husband on the courthouse steps in 1931.
Traversing the line between the Old South and New South, Grace will have to dig into the past to uncover Athena's true crime.