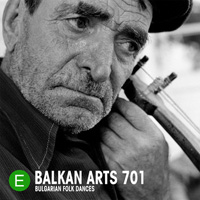 Evergreene Music announced the release of Balkan Arts 701: Bulgarian Folk Dances, the first installment of the Balkan Arts Series, a joint venture between Evergreene Music and The Center for Traditional Music and Dance, which is based in New York City.
The collection will be available as restored digital EPs or as collectible "new-old stock" 7-inch records. The Balkan Arts Series features authentic performances by local master musicians. Each release is adorned with photographs, detailed audio commentary and liner notes, as well as a 12-page digital booklet.
True to the original spirit of the Balkan Arts Series, Evergreene Music will be releasing all 13 individual EPs in sequence. The series was kicked off on January 29th 2013 with an EP of Bulgarian folk dances. It will be followed by three EPs from East Serbia in February, Greek rarities from Macedonia and Thrace in the spring, and wrapping up the series with music from Romania and Bulgaria in the summer of 2013.
These historical sides were recorded in the 1960s and 70s and have never before been available to the general public. Each release is produced by Martin Koenig, an ethnographer and authoritative voice in Balkan culture. Koenig is the original founder and director of New York's Balkan Arts Center (today the Center for Traditional Music and Dance).
Between 1966 and 1979 Koenig made a dozen trips to the Balkans. Working in villages throughout the different areas of the Balkans, Koenig filmed, recorded, and photographed a culture and way of village life that has since been lost forever-transformed by the social and economic pressures of industrial technology, Soviet influence, and Western globalization. Previously, Koenig produced two recordings for Nonesuch's celebrated Explorer Series, and his Bulgarian recording of "Izlel je Delyo Hagdutin" was included on the Voyager Spacecraft's golden record.
"The Balkan Arts recordings are all old-time music and have the same power as the music from Appalachia-the Doc Watson's and the like," explains Koenig. "And I truly believe that we, the West, now have more of an ability to absorb and appreciate this music than we did in the 60s and 70s. Even my 18-year-old son and his friends now respond to it. With so little of this music around anymore, anything that's this real needs to be cherished."
Initially self-released via Koenig's own Balkan Arts imprint, the original records were rediscovered at the Center for Traditional Music and Dance's headquarters during an early meeting with Evergreene Music's Label Manager, Mark Roberts. "I was taking a break from listening to the Center's extensive audio archives and wandered around their office to stretch my legs," recalls Roberts. "Perched on crammed shelves near the entrance, I noticed a large number of cardboard boxes filled with vinyl of some sorts. It turned out the records had been stored there for decades and, aside from their somewhat yellowed and brittle sleeves, were in absolutely pristine condition. After digging out the Center's record player and listening to a handful of the records, I knew I had found an exceptional treasure."
Evergreene Music worked with New York's Magic Shop studio and vinyl specialist Jessica Thompson to create new masters from these historical vinyl pieces.
Buy the Balkan Arts 701: Bulgarian Folk Dances digital version
Author:
World Music Central News Department
World music news from the editors at World Music Central