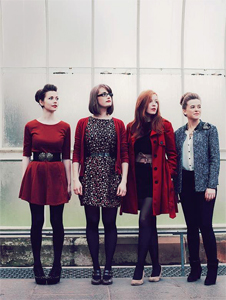 Every year, the Celtic Connections festival in Glasgow presents the finest new musical talent at Danny Kyle's Open Stage. A varied panel of judges – from music industry professionals to members of the general public – then have the job of picking just six winners from the seventy three acts who took part.
The winners of this year's Open Stage, which is supported by the Evening Times, will perform in the finale concert this evening (Saturday, February 2nd) at Adelaides on Bath Street, before being presented with their awards.
The six winners of the Danny Kyle Open Stage 2013 are:
Gria
Hailing from Shetland, Orkney, Lewis & Northumberland this recently formed band – have a cultural musical inspiration combining Gaelic and Scots and English traditions. Gria are singer Ceitlin Smith, Gemma Telfer on accordion, Louise Bichan on fiddle, Lana Elaine on piano and accordion.
Lana, Ceitlin and Gemma are students of the Royal Conservatoire of Scotland (formally the RSAMD) and Louise is a graduate of the Glasgow School of Art, now working as a musician and photographer. All four women are well rounded performers with a wealth of experience and achievements between them.
Website: www.facebook.com/GriaBand
Mulk – Aberdeen
Harry Gorski- Brown, Hayden Hook and Finlay Jamieson make up this trio, bringing a fusions of gypsy , jazz, folk, improvisation, classical, fund and world ! With their own compositions make up this new and vibrant trio.
Website: www.facebook.com/mulkx
Graham Low and Jack Kirkpatrick
These accomplished young musicians from Orkney wowed everyone on the Open Stage at the Orkney Folk Festival, Graham also takes part in 'The Gathering .
Website: www.facebook.com/graham.low.1
Taylor & Leigh – From Edinburgh
A blend of Nu-Folk-Country Blues and blisteringly hot play across the length and breadth of the UK, their music has also been used to promote Ken Loch's film 'Aye Fond Kiss'
Website: www.soundcloud.com/Talorandleigh
Genesse
Beldina Odenyo, a singer-songwriter, originally from Kenya now resident in Glasgow goes under the name of Genesse and brings her culture in her poems and song.
Elliot Morris
The 23 year-old singer-songwriter from Lincolnshire began playing electric guitar when he was 11, but launched his solo set at 17, just a year after starting to explore the possibilities of the acoustic instrument.
Website: www.elliottmorris.co.uk
Author:
World Music Central News Department
World music news from the editors at World Music Central