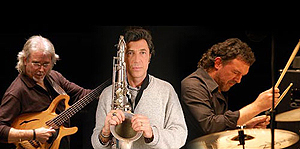 What more can we say about these three outstanding musicians in the Spanish jazz field. The Pardo, Benavent and Di Geraldo trio revolutionized the jazz scene by improvising over solid flamenco beats.
They deserve international recognition for their numerous collaborations with Camarón de la Isla, Paco de Lucía, Luz Casal, and a whole life dedicated to the music that they are passionate about.
Their unique form of performing jazz has taken them to the most important jazz festivals in the world. "El Concierto de Sevilla" was the first recorded testimony by the trio.
A few days ago, Jorge Pardo was recognized as Best European Jazz Musician by the French Jazz Academy. It's the first time that a Spanish jazz musician was presented this prestigious European award.
The trio will showcase their music live in two sessions at sala Clamores in Madrid, on February 8 and 9.
Clamores, Calle de Alburquerque, 14, 28010 Madrid
Phone: +34 914 45 79 38
Metro (subway) stations: Trafalgar and Luchana
Author:
Angel Manuel Hernandez Montes