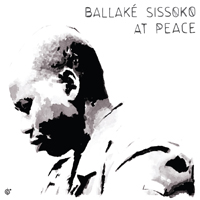 Ballake Sissoko
At Peace (Six Degrees Records, 2013)
Ballake Sissoko's follow-up to the 2009 recording Chamber Music with cellist Vincent Segal entitled At Peace is set to be released on February 5th on the Six Degrees Records label. This is the music the Islamists tearing through Mali don't want you to hear. While this remains a CD review, it must be something more – something so much more.
Beyond the tales of beatings, fires, killings and destruction, the Islamists racing across Mali have outlawed music, smashed instruments and set fire to the ancient papers in the 15th century mosque of Timbuktu. In some places there is no music for weddings or festivals. Many musicians have been forced into exile to the refugee camps outside Burkina Faso. If the glorious music of Mr. Sissoko's kora isn't enough, then think of giving At Peace a listen just to give the finger to the fruitcakes bent on destruction.
Delightful, delicate and dreamy, At Peace pulls at the listener in the same way a scenic landscape causes one to stop and gasp. Opening with the solo number "Maimouna" with Mr. Sissoko on kora, At Peace settles the listener into a precious serenity. Joined by Aboubacar "Badian" Diabate on 12-string guitar for "Boubalaka;" and adding Moussa Diabate on guitar, Fassery Diabate on balafon and Vincent Segal on cello for "Badjourou," the music is intricate and yet remains intimate and warm.
The interplay between Mr. Sissoko and Mr. Segal on "Kabou" shouldn't be missed. Other treats include "Alesonko," the quirkily quaint "Kalata Diata" and folksy "Asa Branca."
At Peace in Ballake Sissoko's musical world means exactly that and it should mean that in our world in general. I hope that you'll support all of Mali's musicians and stand up to those who threaten music. Just to make Charlton Heston roll over in his grave – You can have my music when you pry it from my cold, dead hands. Music sounds so much better in that quote doesn't it?
Author:
TJ Nelson
TJ Nelson is a regular CD reviewer and editor at World Music Central. She is also a fiction writer. Check out her latest book, Chasing Athena's Shadow.
Set in Pineboro, North Carolina, Chasing Athena's Shadow follows the adventures of Grace, an adult literacy teacher, as she seeks to solve a long forgotten family mystery. Her charmingly dysfunctional family is of little help in her quest. Along with her best friends, an attractive Mexican teacher and an amiable gay chef, Grace must find the one fading memory that holds the key to why Grace's great-grandmother, Athena, shot her husband on the courthouse steps in 1931.
Traversing the line between the Old South and New South, Grace will have to dig into the past to uncover Athena's true crime.