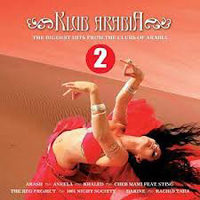 Various artists
Klub Arabia 2 (Virgin)
This is a terrific compilation of tracks titled 'the biggest hits from the clubs of Arabia,' and it certainly lives up to its name. All the big classics are there: 'Le Rai C'est Chic' by Algerian star Cheb Mami (who collaborated with Sting on 'The Desert Rose'), the instrumental 'Trip to Anjar by The Reg Project, and 'Countdown Mix' of Simarik.
Nice crossover sounds stand out in 'Chori Chori' by Aneela. Persian mixed Arash also has his classic 'Man O To,' and veteran Rachid Taha has a superb piece in 'Anta.' The 17 tracks are a terrific fuel for your parties, and a great shot of adrenalin while driving!
Buy Klub Arabia 2
Author:
Madanmohan Rao
Madanmohan Rao is an author and media consultant from Bangalore, and global correspondent for world music and jazz for World Music Central and Jazzuality. He has written over 15 books on media, management and culture, and is research director for YourStory Media. Madan was formerly World Music Editor at Rave magazine and RJ at WorldSpace, and can be followed on Twitter at @MadanRao.