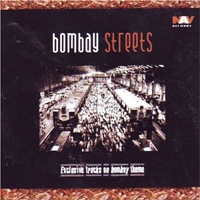 Various Artists
Bombay Streets (Nupur Audio, 2003)
Despite the terrible pounding that Bombay has taken from a series of bomb attacks and terrorist gunmen, its creative spirit will never be stifled. This fine compilation evokes the sounds and energy of the streets of this "maximum city," with 10 tracks on the theme of Bombay.
Artists featured include Aarti Ankalikar, Shubha Joshi and the late great Nusrat Fateh Ali Khan. Our picks include the tracks Calling the Beloved, Salute to Haji Ali, Lost in Dreams and Bombay Rains. The track Mustt Mumbai also stands out.
Author:
Madanmohan Rao
Madanmohan Rao is an author and media consultant from Bangalore, and global correspondent for world music and jazz for World Music Central and Jazzuality. He has written over 15 books on media, management and culture, and is research director for YourStory Media. Madan was formerly World Music Editor at Rave magazine and RJ at WorldSpace, and can be followed on Twitter at @MadanRao.